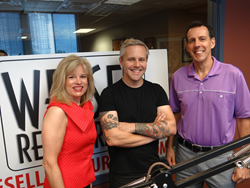 If the food isn't thoughtful, you'll drink and go somewhere else.
Atlanta, GA (PRWEB) June 25, 2014
The Restaurant Brokers of We Sell Restaurants, Eric and Robin Gagnon, are joined this week on their popular restaurant radio show by Chef Eddie Russell host of Cooking Channel's Belly Up!
Bars are often seen as a place for great beer, laughs, and maybe a few peanuts, not palate awakening food. Enter Chef Eddie Russell, who plans to change that with his new show on the Cooking Channel called "Belly Up!" The host visits a different bar or pub each week to turn things around.
The Cooking Channel host tells the restaurant brokers that "What differentiates "Belly Up!" from a lot of the other shows is that, "I'm 100 percent about the food. It's really about giving them the tools to succeed." If the food isn't thoughtful, according to Chef Russell, "you'll drink and then you'll go somewhere else."
Not only are the Restaurant Brokers chatting with Chef Eddie about his new show but they are dishing up advice for restaurant owners or would-be bar owners on topics ranging from social media to problems with kitchen design.
What is some of his advice? According to this chef, responding to negative social media postings is a recipe for disaster. Chef Eddie says a restaurant owner should not reply to negative online reviews. He says, "Never engage in it. You're not going to please everyone. The last thing you should ever do is sit there and respond to it. As soon as you acknowledge it, you validate it."
What about this chef's take on his interaction with owners seen through the lens of a national television show? The restaurant brokers ask if he takes a Gordon Ramsey approach or if he's a bit more laid back in his manner. According to the chef, "I don't sugarcoat anything. I definitely ruffle some feathers." He goes on to say, "My mother says I don't suffer fools well." On the other hand, he says, "I'm the kind of guy that you want to have a drink with afterwards." I'm a very nice dude."
What is Chef Eddie's view on bar owners that focus on alcohol with food as an afterthought? He says it unfortunate but for many bar owners, "The last thing people think about is the kitchen." In his words, "At the end of the day, once you choose to have a food menu, you are a food service establishment so think about how food is going to come out of that kitchen."
Current and future bar owners should tune in for more on the nation's only national radio show focused on the restaurant industry. The show airs in Atlanta on Talk920 AM Saturday at noon or Sunday at 1pm on Biz1190 AM. It is also posted on the We Sell Restaurants iTunes channel or by popular demand on their YouTube channel as well.
Company Information - About We Sell Restaurants
We Sell Restaurants is the nation's largest restaurant brokerage firm specializing in restaurants wanted (restaurants for sale), leasing a restaurant and franchise restaurant resales. The We Sell Restaurants brand is known nationwide for professionalism, industry knowledge and unmatched service. They can be found online at wesellrestaurants.com. The firm is franchising their brand nationwide and has offices in Florida, Georgia, Colorado, Tennessee and South Carolina.