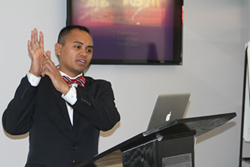 Astoria, New York (PRWEB) June 26, 2014
Hand and wrist pain are common ailments for people in all walks of life, from athletes to those working eight hours per day at a desk job. Repetitive motion can damage your wrist. Everyday activities like typing, racquet sports or sewing can cause pain. People are looking for a way to alleviate or at least minimize this pain.
In response to this need, Hands-On Physical Therapy of New York dedicated their latest "Help You Help Yourself" Wine and Cheese event to "Sprains vs. Tendonitis in the Hand and Wrist."
This educational event, held at their state-of-the-art Astoria location featured guest speaker Michael L. Mangonon, DO and was a huge success.
At the event attendees learned what they could do to alleviate hand and wrist pain this summer, and learned how to avoid unnecessary stress to prevent hand injury.
At the conclusion of this "Help You Help Yourself" event, all attendees were presented with a Free Consultation Card for physical therapy services so they will have the opportunity to discuss one-on-one any physical situation that has been concerning them.
Dr. Michael Mangonon is a fellowship-trained hand surgeon who specializes in the treatment of acute and chronic conditions of the hand, wrist and elbow. This includes fractures, tendon/ligament/nerve/vascular injuries, nerve compression, arthritis and congenital anomalies. Dr. Mangonon is a member of the American Osteopathic Association, the American College of Osteopathic Surgeons, the American Society for Surgery of the Hand and the American Association for Hand Surgery.
Hands-On Physical Therapy has four offices in New York City: Astoria (Queens); Bay Ridge (Brooklyn) and two in Manhattan. To learn more about Hands-On Physical Therapy of New York, please visit http://HandsonPT.org or call (888) 626-2699.
###