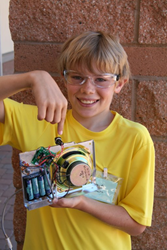 At the Roseville Utility Exploration Center day camp, young 'makers' create custom amplifiers out of recycled materials and the experience may inspire them to consider advanced manufacturing careers.
Rocklin, CA (PRWEB) June 25, 2014
On Monday, July 7 through Friday, July 11 from 9 am to noon, the Roseville Utility Exploration Center will offer "Disassemble It! Explore It! Rebuild It!" a maker day camp for 12 to 17 year olds with support from the Sierra College Science, Technology, Engineering & Math (STEM) Collaborative. In this hands-on program, participants will learn about recycling and advanced manufacturing careers by repurposing discarded electronics, touring Sims Recycling Solutions, soldering electronic circuit boards and assembling speakers. The fee is $115 for Roseville residents and $125 for residents. Register online: https://www.roseville.ca.us/explore/camps.asp.
According to Carol Pepper-Kittredge, Director, Center for Applied Competitive Technologies (CACT) Sierra College, introducing young people to making a useful product such as an electric amplifier that works with MP3 players may inspire them to consider STEM careers in design, engineering, product development or manufacturing. "There is a wave of interest in providing opportunities for young 'makers' to use tools and create custom products that are relevant to them," said Pepper-Kittredge. "The experiences at the Roseville Utility Exploration Center day camp may inspire participants to consider advanced manufacturing careers. We'd like them to come to Sierra College to study Welding, Mechatronics, Engineering, Energy Technology and Drafting & Engineering Support and then find careers with local manufacturing companies."
At the camp, participants will sort through electronic waste to find cases for their speakers, explained Christian Kinsey, camp instructor and Colfax High School Career Technical Education teacher. "They will use tools to dismantle electronics and recycle appealing parts into the customized exteriors for their amplifiers," said Kinsey. "Then they will develop soldering skills and assemble electronic circuit boards. The finished amplifiers can be used with MP3 players and will be a lasting testament of their making abilities and the benefits of recycling."
Campers will also tour electronic scrap recycling facilities in Roseville, one of the most technologically advanced in North America, according to James Cuppet, Plant Manager, Sims Recycling Solutions, a company that partners with local, national and global businesses in the responsible reuse and recycling of end-of-life electronics and computers. "Electronics are one of the fastest growing sources of waste," said Cuppet. "We welcome the opportunity to show young people how electronics are recycled. The tour may encourage them to pursue careers inventing new uses for recycled material or working for local manufacturers that are committed to recycling and sustainability."
About Sierra College STEM Collaborative
The Sierra STEM Collaborative is funded by California Community College Chancellor's Office, to create a pipeline of students interested in technical careers, especially in the Advanced Manufacturing sector, such as design, engineering, production and product development. Students can pursue Welding, Mechatronics, Engineering, Energy Technology and Drafting & Engineering Support at Sierra College. For information, go to http://www.sierraschoolworks.com or contact Carol Pepper-Kittredge, Sierra College at (916) 660-7801.