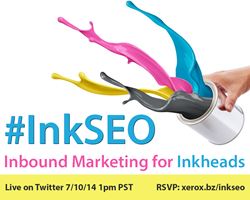 The best insurance against Google's algorithms is making sure your site is as useful to readers as possible and also easy for search engine crawlers to navigate.- Marie Haynes, Google Penalty Recovery Expert
Los Angeles, CA (PRWEB) June 25, 2014
Printers looking to learn about search engine optimization, content marketing, and social media best practices are invited to join the #InkSEO Twitter Chat on Thursday, July 10 at 4 p.m. EST/ 1 p.m. PST.
Hosted by Bill Michael, eMarketing manager, Xerox and Katherine Tattersfield, online marketing director, PrintFirm.com, attendees will learn about Google's new algorithms, how to manage onsite optimization and ways to produce quality content to keep sites fresh and relevant.
The first part of the discussion will focus on explaining SEO terminology and fundamentals in plain English. Printers will then learn key strategies behind successful content marketing campaigns.
Google Penalty Recovery expert Marie Haynes of HisWebMarketing explains how SEO affects a print provider's bottom line: "Recently Google released another update of the Panda algorithm which looks at the overall quality of your site. If a website is deemed to be low quality in the eyes of Panda, then Google will demote the rankings for all pages of that site in the search engine results. The best insurance against the Panda algorithm is making sure your site is as useful to readers as possible and also easy for search engine crawlers to navigate."
Tattersfield knows firsthand how valuable inbound marketing can be for a printing company; her blogging and social media activities increased PrintFirm's sales by 46 percent in a year. "This chat gives us a chance to talk with the community directly in an intimate environment. I want printers to see the bigger SEO picture, beyond the day to day algorithm updates and rankings. SEO is really about building the brand community, earning trust, and delivering an outstanding customer experience. The printers who understand that will flourish now and in the future."
Users can join the conversation on Twitter directly or through their preferred Twitter chat platform; a complete transcript replay will be available following the discussion.
Chat recaps with additional resources will appear on the Xerox Digital Printing blog as well as the PrintFirm company blog. Participants are welcome to share their #InkSEO chat insights and experiences on their own blogs.
Attendees are encouraged to RSVP and add the event to their calendars on TweetChat: xerox.bz/inkseo
About PrintFirm
Printfirm, Inc., trusted leaders in online printing, mailing, and design since 1996. For more information, please visit http://printfirm.com.