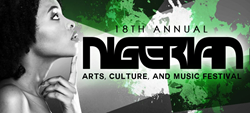 We want to keep the conversation going and show our support for those girls
Atlanta, GA (PRWEB) June 25, 2014
This year's festival will be a special tribute to the #bringbackourgirls campaign, in support of the Nigerian schoolgirls kidnapped by the terrorist group Boko Haram and international efforts to promote education of women and girls. "We want to keep the conversation going and show our support for those girls," said Chris Obinzu, one of the organizers of the festival. The festival will feature a special appearance by Hollywood actor Adewale Akinnuoye-Agbaje, who is known for his role in the movie "Pompeii" and NBC new series "Odyssey." He is also well-known for his roles in the The Mummy Returns (2001), and the HBO series Oz (1997). The son of Nigerian immigrants, Adewale was born and raised in London and began his career as a model in Milan. He graduated with a masters degree in law from London's prestigious Kings College before moving to Los Angeles to make the transition to acting.
Information about the Nigerian Festival can be found at http://nigerianreuniononline.com/
The annual festival, always an unforgettable experience, will feature a series of events, including an electrifying concert featuring one of Nigeria's Mega Artists, "Iyanya aka The Kukere Master," Nigerian Empowerment Symposium; Comedy Show featuring one of Nigeria's best and funniest comedians, "BasketMouth"; Family Picnic/Festival; Speed Dating; Mind of a Nigerian; night receptions; and the 5th Installment of the Nigerian Image Awards. The Nigerian Image Awards ceremony is an unforgettable night honoring the achievements of extraordinary people of Nigerian descent in music, arts, service, education, and other walks of life. This year's Nigerian Image Award recipients include actor Adewale Akinnuoye-Agbaje; Ambassador Geoffrey Tenailabe, consulate of Nigeria, Atlanta GA; Youth Global Activist Ucha Ndukwe; Steve Akinboro, Executive Vice President of Domino's Pizza; Esther Tongo, CEO of Getsym, maker of ready stew; Rt. Hon. Adeyemi Ikuforiji, Lagos State House speaker; and Ms. Mfon Ufot, a well- known community leader in Atlanta.
The cost to attend all Nigerian Reunion Festival events is $125. For complete information on the 18th Annual Nigerian Arts, Culture, and Music Festival, log on to http://www.nigerianreuniononline.com.
Founded in 1999, the Nigerian Reunion Corporation is a global organization whose primary purpose is to promote and strengthen the unity and honor of Nigerians and Nigerian descendants in the diaspora. The organization is committed to the following objectives:

To promote cooperation and professional networking among Nigerians, Nigerian descendants, and people worldwide
To promote unity and interaction of people through a national reunion conference
To provide assistance to the poor and the needy
To provide enriching educational and cultural workshops for the public
To promote awareness and appreciation for the diverse culture of people worldwide