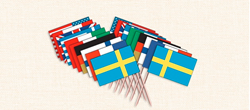 We are definitely seeing more excitement for the World Cup...and our world toothpick flag sales have really picked up.
Atlanta, GA (PRWEB) July 01, 2014
The Flag Company, Inc. has seen a definite upswing nationwide in orders of its decorative world toothpick flags from their sister company Toothpickflag.com as the 2014 FIFA World Cup in Brazil soccer fever gains popularity here in the U.S., and a parade of nations is appearing on game time buffet tables, making hamburgers, deli sandwiches, deviled eggs, cupcakes, donuts and more come alive with mini flags from all over the world.
The World Toothpick Flag collection, exclusively Made in America, offers overwhelming choices with over 200 countries available in the 1.5" x 1" standard size format and prices ranging from $8.80-$5.50 for the standard size 100 or 50 pack, or $13.20 for a 3" x 5" jumbo size 12-pack.
The specially packaged Standard Country Combo Toothpick option contains 10 toothpick flags each of 10 countries: U.S., Canada, United Kingdom, Greece, Mexico, Italy, Germany, Finland, France, and Sweden for $13.20. The longer toothpick option is not available with this item. There is still time to order any of these options since orders ship out either the same day or next.
Custom toothpick flags are also always possible at Toothpickflag.com and game time parties become extra special and memorable with that special personal touch.
"We are definitely seeing more excitement for the World Cup this time around," says Mike Lawrence, Vice President of The Flag Company, Inc., "People are talking about the event and watching it, and our world toothpick flag sales have really picked up. We have what our international supporters here at home need to celebrate their team!"
Not only is The Flag Company, Inc. sure to have the world toothpick flags that team supporters want, but they also offer an extensive inventory of flags and banners in many formats from a huge selection of indoor and outdoor world flags, to more compact 12" x 18" stick flags on a 24" staff, and even convenient hand-held world flags.
Fans can have their cake and eat it too, along with a whole smorgasbord, surrounded by toothpick-flagged buffet goodies of competing international teams. It's good for the appetite and spirit too!
About The Flag Company, Inc.
In addition to being the largest online supplier of flags and flagpoles, The Flag Company, Inc. owes its start to the success of its original product, Farming Flags®. The Flag Company, Inc. also manufactures its patented Flagpole Beacon for its Illuminator Series flagpoles and for single sale retrofits. Eighteen distinct categories of customers can choose from an expansive inventory of over 6,500 items. The Flag Company, Inc. now also partners with a machine and manufacturing company, expanding its capability to provide custom brackets, finials, hardware, etc. for special situations. Additionally, it is collaborating on creating robotic equipment for use in the flagpole industry.
With special and challenging projects a strength for The Flag Company, Inc., resumé highpoints include flagpoles for Georgetown University in Qatar, the Spiral Rotonde at Aruba International Airport, and Dow Chemical Headquarters in Michigan, and the 1996 Centennial Olympics in Atlanta, GA, and prior. Celebrating 25 years of providing excellent products and customer service, The Flag Company, Inc. appreciates all its loyal customers and hard-working employees as it looks forward to many more years of leading the industry. The Flag Company, Inc. has websites targeting its many customer categories: http://www.flagpolewarehouse.com, http://www.valley-forgeflag.com, http://www.feelgoodlightups.com and http://www.toothpickflag.com.