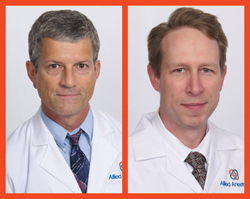 My mother and grandmother were both nurses, and I assume they would be proud that they raised a son/grandson that is being recognized as a Friend of Nursing.
Santa Ana, Calif. (PRWEB) June 24, 2014
The nursing staff of St. Joseph Hospital in Orange honored Allied Anesthesia physicians Frank Sweeny and Phillip Richardson with the 2014 M.D. Friend of Nursing award during National Nurses Week in recognition of their outstanding leadership and collaboration.
Dr. Richardson, who is chair of the Perinatal Collaborative, was recognized for helping create guidelines to ensure the highest quality patient care, working closely with nursing when the team piloted its first cesarean section on-time trial, advocating for the laborist program and being available for consultation regarding the future growth of the hospital's maternity program.
"We appreciate all he has accomplished so far, and are thankful to be able to work with him in the future," said Chief Nursing Officer Katie Skelton.
Dr. Sweeny was nominated for providing leadership and support and for bringing dignity to every interaction at all levels.
"He is continually focused on ensuring we stay tuned in to our patients and their outcomes," Skelton said. "Despite his many other responsibilities, Dr. Sweeny is committed to teamwork and quality and works directly with our nursing teams."
Both Richardson and Sweeny were surprised and honored by the awards.
"This is truly a special award that will always be dear to my heart," Richardson said. "My mother and grandmother were both nurses, and I assume they would be proud that they raised a son/grandson that is being recognized as a Friend of Nursing."
Labor and delivery is a team effort.
"Every partner in the process is critical for the best outcome for both the mother and baby and we need everyone working together," Richardson said.
Sweeny took the opportunity to thank the nurses, who he said "do so much and get so little credit" yet are so critical to positive patient outcomes.
"When I decided to come here 25 years ago, St. Joseph had a reputation for having excellent nursing care," Sweeny said. "That was one of the big selling points to me in addition to having excellent physicians. You can't do it with just excellent doctors, you need excellent nurses as well."
---
About Allied Anesthesia: With 53 highly qualified anesthesiologists on staff, Allied Anesthesia provides adult and pediatric anesthesia services to St. Joseph Hospital of Orange, the Children's Hospital of Orange County, the Main Street Specialty Surgery Center and many other Southern California health care facilities.
All Allied Anesthesiologists are Board Certified in Anesthesiology, and they staff and manage the most efficient operating rooms in Southern California. Allied specializes in pediatric anesthesia, performing approximately 12,000 pediatric anesthetic procedures a year. All of the group's anesthesiologists have a special interest in excellent pediatric perioperative care and are Board Certified or Board Eligible in Pediatric Anesthesiology.
Allied is a member of the California Society of Anesthesiologists and the American Society of Anesthesiologists.
For more information, visit http://www.alliedanesthesia.com.