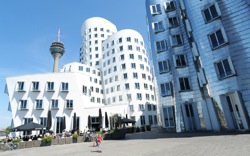 The warmth and sophistication of a small, yet cosmopolitan city is something that many patients prefer during a medical stay over bigger, noisier cities with more stress factors.
Düsseldorf, Germany (PRWEB) June 25, 2014
Düsseldorf's popularity as a travel destination has grown immensely over the past years as more and more travelers from all over the world discover the many delightful qualities of this city on the Rhine. Nearly 4.25 million hotel nights were booked in 2013 in Düsseldorf, breaking last year's record of 4.0 million, and around 40% of hotel nights booked by visitors from abroad, with visits by US travelers up 15.8%.
But it's not just the leisure traveler who is discovering Düsseldorf – the city is also becoming a major destination for medical tourism. Drawn to its world-renowned clinics, health centers, and universities featuring top-rated physicians in a setting of world-class cultural and luxury living options and a superior global infrastructure, well-heeled medical tourists are increasingly making Düsseldorf their top choice.
Many of the medical tourists visit to seek treatments, consultations, and second opinions in the areas of dentistry, plastic surgery, rehabilitation, reproductive medicine, obesity, diabetology, and ophthalmology. Patients not only find top facilities in these and other fields, but also an infrastructure ideal for short and long-term stays. Many hotels, for example, are equipped for the needs of medical tourists, with some hotels even offering in-house doctor offices and treatment rooms or direct access to clinics.
Moreover, the warmth and sophistication of a small yet cosmopolitan city is something that many patients prefer during a medical stay over bigger, noisier cities with more stress factors. Düsseldorf, with most of its great resources and attractions in walking distance of the city center, offers the perfect mix of big-city convenience and small-town comfort that supports the healing efforts of medical tourists. Some of Düsseldorf's biggest attractions include the quaint, historic Old Town, high-end shopping boulevard Königsallee, modern Media Harbor with its variety of stunning super-star architecture, and 20 castles in and around the city, including famous Benrath Palace. Düsseldorf is also known for some of the best contemporary and classic art collections in the world, and in total has 100 galleries and 26 museums, including K20 & K21 (showing 20 and 21st century art, respectively).
Last but not least, Düsseldorf Airport is a major international airport offering connections from 64 airlines to 192 destinations in 55 countries, including many direct long-haul connections. There are direct flights to 7 North American airports, as well as China and Japan, making comfortable travel for medical reasons easy from nearly anywhere in the world.
For more information about the destination Düsseldorf, please visit: http://www.visitduesseldorf.de.
###
Düsseldorf Marketing & Tourism GmbH is the visitors and convention bureau of the city of Düsseldorf. Its responsibilities include tourism and city marketing, as well as conference and meeting marketing, hotel reservation services, fairs and convention services, city event ticket sales and advance ticket reservations. For more information, visit http://www.visitduesseldorf.de.
Düsseldorf Airport, Germany's Next Generation HubTM, offers several non-stop flights from US & Canadian cities (Atlanta, Chicago, Ft. Myers, Los Angeles, Miami, New York, Newark, and Toronto), as well as convenient connections to many European cities. For more information about the airport, visit http://www.dus.com.