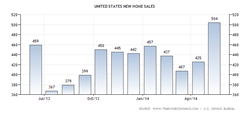 This rise confirms the housing recovery remains intact
Chicago, IL (PRWEB) June 25, 2014
Lenders like Peoples Home Equity were very happy to see monthly new home sales breakout of their winter/spring slump by jumping 18.5% in May.
As shown on TradingEconomics.com on June 24th, new home sales surged from 425,000 in April to a six year of 504,000 in May. This rise confirms that the housing recovery remains intact despite higher mortgage rates from a year ago. Peoples Home Equity believes the surge is a reaction to three factors. First, the cold winter weather is over, especially in the Midwest which is encouraging all prospective home buyers to go out and looking at property listings. The second factor is increased awareness of rising mortgage rates. Americans have become more aware of the risk of rising rates as they have seen the trend increase over the past 2 year. Accordingly, they are rushing to purchase a home this summer as prices have also been relentless to the upside. Lastly, falling unemployment has made it increasingly possible for all Americans to obtain a mortgage or at the very least apply.
New home sales in May were up 23.8% from their 2014 low in March and up 16.9% from May 2013. Meanwhile, the amount of new home inventory remained the same as Aprils at 189,000 units. The current amount of inventory is only enough to satisfy 4.5 months of current demand. Hence, so many real estate headlines deal with the lack of inventory on the market and its effect on rising home prices. That said, home prices have slowed recently nearly to a halt while sales just keep climbing.
Peoples Home Equity was not too surprised by this good news as the lender has focused more attention recently on weekly home sales reported by DQnews.com. By following weekly rather than monthly home sales, Peoples Home Equity keeps itself more up to date rather which give its loan officers an edge in market knowledge. If interested in a home loan, consider contacting a loan officer from Peoples Home Equity. Loan officers residing in all of the lenders branches understand their respective local housing markets.
Contact a Peoples Home Equity loan officer today at: 262-563-4026