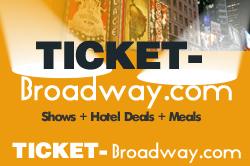 Hedwig tickets took off recently and continue to sell at a feverous pace after Neil Patrick Harris won the Tony award for best actor in a musical.
New York, NY (PRWEB) June 30, 2014
Hedwig tickets took off recently and continue to sell at a feverous pace after Neil Patrick Harris won the Tony award for best actor in a musical. The play features Neil Patrick Harris in drag as a victim of a botched sex change operation. Hedwig And The Angry Inch on Broadway as currently scheduled only lasts until October 12 with many performances already sold out at the box office.
Huge sales of Book Of Mormon Broadway tickets each week place the musical by the South Park creators always near the top of the Broadway hottest play list. Other shows on the Ticket-Broadway.com list battling for the title of Best Broadway Musical include Aladdin, Kinky Boots, Wicked, Motown and Matilda. Also joining Hedwig And The Angry Inch in the Ticket-Broadway.com Top Ten fans will find Beautiful: The Carole King Musical, Jersey Boys and The Lion King.
Ticket Broadway prides itself in featuring a complete Broadway dinner package site where consumers can purchase show tickets or book a hotel while saving money, then receive a $25 meal certificate as a bonus. Consumers can use coupon code BPACK5 at checkout for discounts. Hotel cash back is offered via an easy online rebate form, and restaurant gift certificates are issued via a convenient online form as well. For those preferring a non internet experience all transactions can take place by phone using a toll free number. In addition to Hedwig, create a package for Motown On Broadway, Wicked, Aladdin, Book Of Mormon or any other show. The savings on Broadway hotels or Broadway plays via the discount codes or cash back rebates remain available for people even when they only book a hotel or buy tickets but not both.
Discover great savings in one convenient location at Ticket Broadway. Best yet, not only can travelers schedule their own Broadway theater tickets or Broadway dinner package, in addition, Ticket Broadway allows consumers the opportunity to create their own customized New York City travel package with Mets or Yankees tickets, concerts including Lincoln Center, or even restaurant vacations with shows and Broadway hotels.
With discounts and cash rebates not found at other sites, plus a $25 restaurant certificate as a cherry on top from this new selection of fine dining establishments, anyone interested in a complete Broadway ticket package should look at the packages offered at Ticket Broadway. With Hedwig And The Angry Inch only scheduled for a relatively short run on Broadway don't miss the limited number of chances to see it.
About Financial Firebird and Ticket Broadway
The site to buy Broadway Tickets online and its sister sites, including the Buy Cheapest Tickets online site all geared for the consumers looking for low prices on tickets, are affiliated with the Financial Firebird Corporation Travel Group, and stand among the top sites sought by travelers and people who enjoy concerts, pro sports and theater performances. Financial Firebird Corporation provides unbiased consumer information, software and marketing services - established 2000 and a proud BBB member. These sites for consumers to buy tickets online operate in the resale market and maintain no relationship with the venues or performers, the resale ticket market allows consumers access to popular events once the box office has sold out or to buy premium seats when the venue no longer offers any inventory. Within the group of these secondary market ticket services the Financial Firebird owned ticket sites offer lower prices than competitors. Find the site at Ticket-Broadway.com.