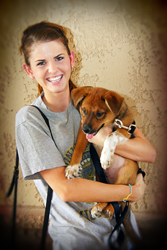 Our mission is to provide the safest and most loving environment for your pets while you're away.
Scottsdale, Ariz. (PRWEB) June 25, 2014
While working as a kennel assistant at a boarding facility for pets, Arizona State University alumna Paige Corbett saw firsthand how stressful it was for animals to stay in an unfamiliar environment while their owners were gone.
"Some pets sat sadly in the corners waiting for their owners to return, while others would romp around and get in fights," Corbett said. "It started to make sense why my dog would drag her feet and whine whenever my family went out of town and had to board her."
Corbett, who graduated from ASU's W. P. Carey School of Business in December 2013 with a degree in accounting, was determined to offer pet owners an alternative to commercial boarding facilities. In October 2013 she teamed up with fellow W. P. Carey student Aaron Grove to create PetSitnStay, an online matching service that connects pet owners with local animal lovers willing to provide in-home pet care. The pair launched the beta version of the site in April of this year.
"As a student in my entrepreneurship class a few years ago, Paige knew she wanted to start something and was able to explore how to follow her passion through creating a viable business," said Sidnee Peck, director of the Center for Entrepreneurship at the W. P. Carey School and an entrepreneurship faculty member. "She and Aaron are excellent examples of students who have really capitalized on the resources available to them as WPC and ASU students and alumni. Their proactive insight and hard work are really paying off for them."
With PetSitnStay, pets are cared for in their own homes or in caregivers' homes while their owners are away, minimizing the stress of their owners' absence. Rather than being confined to a cage in a boarding facility with other animals, pets remain in a home environment, where they can get individual attention.
"Our mission is to provide the safest and most loving environment for your pets while you're away," Corbett said. "We want your pets to receive the same care they would at home."
In addition, PetSitnStay simplifies the process of arranging pet care for owners and caregivers alike. Owners can search the site's list of pet sitters by location, cost and other criteria and determine the best match for their pets. Sitters, who set their own rates, have access to online tools to manage the scheduling and payment processes.
Corbett and Grove started PetSitnStay with the help of ASU's Great Little Companies (GLC) Network, which provides funding and mentorship to early-stage student startups at ASU. The support from the GLC Network enabled them to take their idea and develop it into a viable startup company. Thanks in part to the company's success in the GLC Network, earlier this month PetSitnStay was accepted into ASU's Edson Student Entrepreneur Initiative, an intensive startup accelerator in the university's Office of Knowledge Enterprise Development that offers funding, office space, exclusive training opportunities and mentorship to student startups.
"PetSitnStay exemplifies why we established the GLC Network: to support student startup companies in their quest to be stronger contenders for the Edson Student Entrepreneur Initiative," said ASU venture manager Tracy Lea, who leads the Edson initiative. "Paige and Aaron demonstrated significant progress during their time in the GLC Network, which made PetSitnStay an obvious choice for the Edson program this year."
The company will use the funding from the Edson initiative to expand their offerings to other cities and add new features to the site. Currently PetSitnStay's service is available only in Arizona, but Corbett and Grove have plans to expand to other locations soon, including California and Texas.
"PetSitnStay has launched at the optimal time," Grove said. "'Sharing economy' companies are booming, and our peer-to-peer model allows us to take advantage of this trend when people are looking for alternative sources of income. As a company we want to provide a better home for pets while their owners are away and empower pet lovers with tools so they can earn additional income watching pets."
###
About PetSitnStay
PetSitnStay matches animal owners to local pet lovers willing to provide in-home pet care. We provide hassle-free connections to help you utilize your community of pet lovers while providing a safe environment for your animals. Owners can search through a list of our awesome sitters and sort by distance, property type, price, and other various criteria to find the best sitter for their pet's needs as well as their budget. Sitters are provided with our online tools to manage client communications and bookings so they can effectively manage their pet sitting businesses from home. For more information or to sign up to find or become a pet sitter, visit http://petsitnstay.com.
About the Edson Student Entrepreneur Initiative
The Edson Student Entrepreneur Initiative gives Arizona State University's student entrepreneurs the opportunity to develop their innovative ideas and launch viable startup companies. Based in ASU's Office of Knowledge Enterprise Development, the initiative offers approximately 20 student-led teams each year up to $20,000 each in seed funding as well as office space, training and mentorship to help launch and grow their for-profit, nonprofit or more-than-profit ventures. For more information, visit http://edson.asu.edu.
About the Great Little Companies (GLC) Network
The Great Little Companies (GLC) Network supports up to 30 student startups each year that apply for but are not accepted into the Edson Student Entrepreneur Initiative. Each startup invited to participate in the GLC Network receives $3,000 in grant funding as well as direct mentoring through the Changemaker Central locations on each of ASU's four campuses.