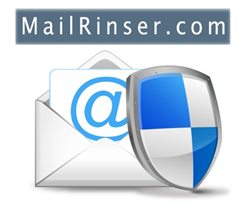 MailRinser.com has just launched an online CASL compliance tool which facilitates avoiding sending email to Canadian recipients altogether.
(PRWEB) June 25, 2014
As of July 1 2014, Canada's anti-spam law (CASL) kicks into gear. This sweeping new law carries severe penalties for non-compliance and will affect most businesses in Canada, as well as those beyond its borders.
Since most businesses today send commercial electronic messages, it would be prudent for them to ensure that their marketing activities comply with CASL. This has left many businesses and email marketing companies scrambling to understand the scope of the law, as well as to put compliance measures in place. In response to this need, Mailrinser.com, a new online software solution, has just launched a CASL compliance tool that facilitates avoiding sending email to Canadians altogether.
Mailrinser.com, an on-demand email verification service, is an online service that simplifies compliance with CASL. While most software solutions for CASL have focused on tracking consent provided by recipients, this innovative solution is the first of its kind to focus on identifying Canadian email addresses so that they can be easily removed from mailing lists.
With fines of up to $10 million, CASL will have a significant impact on any sender of commercial email, especially since the law applies to anyone (even outside Canada) sending email to recipients in Canada. This poses a significant problem to US senders of commercial email, as the US anti-spam law differs substantially from the Canadian law. The core difference is that the Canadian law requires consent before an email is sent, while the US law in essence only requires that the recipient should be able to opt out after receiving a message.
Many businesses will not intentionally target Canadians, but will inevitably end up sending some email to Canadians, thereby subjecting themselves to CASL. MailRinser.com addresses this need by facilitating the removal of Canadian recipients from email lists. Although no email address is inherently tied to any country, there are a number of characteristics that would support a reasonable belief that a recipient is not in Canada, as required by CASL.
CASL stipulates that the law does not apply if the sender has a reasonable belief that the message will be accessed in a country other than Canada. This exemption is listed on the official government website http://fightspam.gc.ca in paragraph 3(f) of the CASL Regulations.
The proprietary MailRinser.com software uses a rule-based approach to control a series of algorithms that detect Canadian characteristics in the email address itself, the domain tied to the email, and the broad internet profile of the email address and domain. In cases where there are no clear Canadian characteristics, the email address is classified as "unknown".
The straight-forward MailRinser.com solution presents an online CASL compliance alternative to simply tracking prior consent. Given the law's steep penalties - which could be triggered by sending out a single email to a Canadian recipient, many businesses might consider it smarter to just avoid breaking the law by simply not contacting Canadians at all.
For more details on MailRinser's compliance tool and/or the new Canadian legislation, visit: http://MailRinser.com