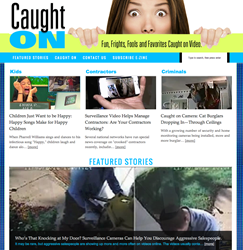 "Surveillance cameras can empower homeowners to take charge. Talk to your contractors and let them know you'd like to be able to monitor them. Any contractors I've met that take pride in their work..." Maureen Campbell, iWatchLife.com
Toronto, Canada (PRWEB) June 25, 2014
Caught On Video focuses this week on three growing issues for homeowners: theft, belligerent door-to-door salespeople and fraud from contractors. Six new videos reveal the growing issues for householders and demonstrate how fraud and unwanted sales calls were prevented with the use of home monitoring.
"Who's That Knocking at My Door?"
It may be rare, but aggressive salespeople are showing up more and more often on videos online—three of them profiled in this week's Caught On. The videos usually contain warnings about what to watch for. Although most salespeople are polite and properly trained—and many jurisdictions mandate permits, which include criminal background checks—the fact is that some sales associates are aggressive, which leads, occasionally, to police involvement. Increasingly, homeowners are turning to home video surveillance to discourage assertive salespeople.
In one of the profiled videos, a door-to-door salesperson reveals another reason to install entryway monitoring. He attempts to steal a package left on the porch for the homeowners. Most incidents with door-to-door salespeople are more nuisance than crime, but a second video reports on the physical assault of a grandmother at the hands of a confrontational salesperson.
"Positioning a surveillance camera at the front door will let you know who's there before you answer it," says Maureen Campbell of iWatchLife, a do-it-yourself home video monitoring service. "With a service like ours, you can see the video from your smartphone, tablet, or computer, whether you're away or at home. You can also be notified in real time if anyone is at the front door. If you do answer the door and there's an incident, you'll have a video deterrent and evidence for prosecution, should it be necessary."
Watch three dramatic videos of situations where home video monitoring helped homeowners fight back.
"Are Your Contractors Working?"
In a new report on contractor fraud caught on camera, Caught On showcases two videos that emphasize the pervasiveness of the problem.
In one sting video, six furnace repair technicians are called to an elaborate hidden camera set-up. The furnace is in good working order. Two out of six contractors were dishonest, caught on tape deliberately lying to an elderly resident about "needed repairs." When confronted on camera, one of the contractors simply replied: "It was stupid on my part. Normally, we don't do that . . . I'm just a little low on cash."
Inexpensive do-it-yourself home surveillance cameras are one way to ensure customer satisfaction with their contractors' work because they allow homeowners to manage the renovation from remote locations via smartphones or internet.
"Surveillance cameras can empower homeowners to take charge," says Maureen Campbell, Director of Marketing & Communications at iWatchlife, a do-it-yourself home surveillance service. "Talk to your contractors and let them know you'd like to be able to monitor them. Any contractors I've met that take pride in their work have no issue with being filmed. In fact, they like the idea of homeowners being able to see the quality of their work. They also see the benefit of being informed if there's an issue with their subcontractors."
Watch the videos of contractors caught on camera.
About Caught On!
Caught On video zine showcases those special, fun, scary, candid, freaky moments captured by home and business security cameras, street cameras, surveillance videos or cellphones. Pervasive cameras have changed our world. We are more secure today because of them. We also capture more of life's treasured moments thanks to cameras everywhere. Our phones have cameras. Street corners, stores, businesses and subways all have them. Increasingly, more and more homes have them—and not just at the door for security, but throughout the house.