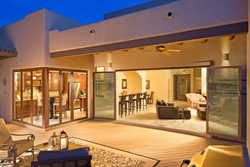 San Francisco (PRWEB) June 25, 2014
NanaWall Systems will be exhibiting at this year's Pacific Coast Builders Conference (PCBC) in San Francisco on June 25th and 26th, 2014 in booth #5506. As the leading industry innovator in opening glass wall systems for more than 25 years, NanaWall Systems revolutionizes the category once again with the introduction of FoldFlat, a proprietary technology that will change the way architects, builders and designers maximize the living space of a room and allow for full usage of available square footage both inside and out. NanaWellness Systems, an Internet-of-Things solution for managing indoor air quality empowers the residential owner of a NanaWall opening glass wall to know precisely when it's time to open his or her NanaWall and flush the interior with fresh air.
"Rooted in innovation and with an ever-expanding product line, we continue to improve our breadth of offerings for architects and builders," said Ebrahim Nana, CEO of NanaWall Systems. "With our focus on continuing innovation, NanaWall Systems offers countless style options, unsurpassed durability and superior performance."
For more than five decades, PCBC has featured the leading manufacturers in the residential building, home technology and green products categories. This year more than 200 manufacturers, builders, architects, developers, distributors, designers and contractors will attend the event. The two day conference will include educational forums and lectures, networking opportunities and product demonstrations, such as the show's "Best of the Best" exhibit floor displaying the most ground-breaking products.