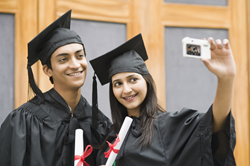 Over five million graduation gowns are worn by students annually, primarily constructed out of polyester which does not biodegrade.
Oregon (PRWEB) June 26, 2014
Greener Grads, a national sustainability company based out of Grand Rapids, MI, to expand collection efforts to Bend, Oregon in partnership with The Environmental Center. The national initiative is set to recover, reuse and repurpose over 1,000,000 graduation gowns through partnerships with universities, sustainability organizations and more. Through the partnership with The Environmental Center, Greener Grads will continue to increase collection efforts to keep gowns out of the landfills.
"Over five million graduation gowns are worn by students annually, primarily constructed out of polyester which does not biodegrade. The detrimental impact on our environment can no longer be ignored," said Seth Yon, founder of Greener Grads. "When considering the manufacturing process, how briefly the gowns are worn, and the environmental impact the chemicals cause if sent to a landfill – it becomes more difficult to justify buying new product as you realize what a big difference one person can make."
The Environmental Center's mission is to embed sustainability into daily life. They translate sustainability into practical action in order to create a healthy future for people and the planet. The organization incorporates education and advocacy to advance the vision of a sustainable Central Oregon. This includes: zero waste of materials, energy and water; youth education; sustainable business; and operating a community campus that demonstrates sustainability in action.
"We are excited to partner with Greener Grads to reclaim gowns from students in Bend, Oregon," said Jackie Wilson Sustainability Educator at The Environmental Center. "This supports our mission and will hopefully keep thousands of gowns out of the Landfill."
Anyone can participate in collection efforts, as gowns of all ages, sizes and colors are accepted for the recycling programs.
"We are aggressively expanding our collection efforts. The partnership with The Environmental Center is a first step in our strategy to increase donation centers across the United States," said Yon.
For more information about Greener Grads or to participate in the movement, visit http://www.greenergrads.org.
For more information about the Bend donation, contact Jackie Wilson at The Environmental Center at Jackie(at)envirocenter(dot)org or 541-385-6908 x15.
About Greener Grads:
The Greener Grads story begins in the brain of Seth Yon, a former employee of a graduation industry giant who wanted to utilize his unique skill set to make the world a better place.
After 11 years with the company and delivering a career volume of over $9 million of product, Seth decided to take his vast knowledge of the industry and form Michigan Grads, a West Michigan-based company focused on offering students and their families environmentally friendly graduation products at a more affordable price.
Now with the launch of Greener Grads, Seth introduces a clever way to repurpose, re-use and recycle, shifting his focus to a wider audience and moving one step closer to becoming an environmentally-conscience leader in the graduation industry. To Seth, Greener Grads isn't about getting rich, "it's about getting it right. If I can be part of a small change, then I want to do that. Every gown counts."
About The Environmental Center: The Environmental Center is a nonprofit center for education and action that supports a healthy environment. As the community hub that embeds sustainable thinking and action into daily life, The Environmental Center has played an important role in shaping Bend since 1988. Hallmarks of our work include collaboration with local businesses and governments, youth education and a focus on practical, positive solutions that support a sustainable future. For more information about The Environmental Center, visit http://www.envirocenter.org.