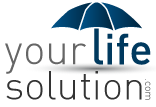 Chicago, IL (PRWEB) June 25, 2014
YourLifeSolution.com, a service which allows consumers to instantly compare life insurance quotes online without entering any personal information, is today releasing a rebuttal to a somewhat popular Internet meme that questions the necessity and financial logic of owning life insurance. The service is doing this in attempt to clarify that permanent life insurance has a greater ROI under nearly all circumstances than conservative methods of saving. "The original meme made the argument that it would be far more logical to simply put money in a savings account than it would be to own life insurance. They presented life insurance as a "gamble", claiming that it's quite likely you'll pay more into it than your family will ultimately receive upon death. This is mathematically false, not to mention a completely ignorant view of how risk management works. With permanent life insurance, people pay in far less than the death benefit that comes out in nearly every case imaginable. Should the person taking this advice die within 5 years of engaging in this plan, their family would be left with a mere several percent of what the life insurance death benefit would have been worth. What's really amazing and somewhat telling is that people seem to respond to this meme very positively, as if it's this brilliant objective concept," said Eric Smith, the founder of YourLifeSolution.com.
The meme and it's mathematical rebuttal can be seen here: http://visual.ly/life-insurance-vs-savings-account-argument-debunked.
Consumers interested in getting more information about competing life insurance products are encouraged to visit YourLifeSolution.com, or call 888.374.2764.