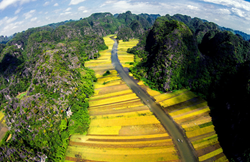 Hanoi, Vietnam (PRWEB) June 25, 2014
Smile Travel Vietnam was founded in 2008 and is considered a leading travel agency in Vietnam. Yesterday, Smile Travel Vietnam introduced an extraordinary tour to Trang An: a World Heritage Site.
Travelers will be picked up at their hotel at 08:00 AM. Covering an area of nearly 2,000 hectares, Trang An consists of three sites: the Hoa Lu ancient citadel, Trang An-Tam Coc-Bich Dong natural scenic site, and the Hoa Lu primeval forest. The complex is often called Vietnam's Ha Long Bay on land.
The travelers will visit a complex of 51 grottoes. On both sides of the river there are mountain ranges. After visiting the paddy fields and magnificent caves, travelers will have lunch.
In the afternoon, visitors will go to Tran Temple. The way to the temple is long and steep, but the more people go up the more they are interested in the beautiful scenery and feel comfortable in the fresh and cool air. Legend has it that the temple was built by King Dinh Tien Hoang during the time the Hung Kings' Temple was built in Phu Tho. Later, King Tran Thai Tong (1218 –1277) came to this area to establish Vu Lam royal step-over place and improved the temple, hence the temple was called Tran Temple.
Furthermore, holidaymakers will have a chance to visit Khong Temple, which is also called Cay Thi (persimmon tree) Temple because there are two ancient persimmon trees with two types of fruit, round and flat. The temple honors seven loyal mandarins of the court (968-980).
Return to Ha Noi Capital and finishing the tour when dropping tourists off at the lobby of hotel.
About Smiletravelvietnam.com:
Smiletravelvietnam.com is a local website operated by Smile Travel Vietnam Company. It provides Vietnam visas, airfares and impressive promotion tour packages.
All interested visitors should contact: sales(at)smiletravelvietnam(dot)com or call 84.976.127.023 for further details.