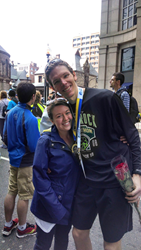 Richmond, VA (PRWEB) June 25, 2014
Tidewater Physical Therapy is pleased to announce that Matthew J. Schultheis, PT, DPT was named a Senior Physical Therapist at its Midlothian Clinic near Richmond.
Tidewater Physical Therapy is an independently owned outpatient practice with clinics across Southeast and Central Virginia.
Schultheis joined the Tidewater Physical Therapy team in 2010, first starting to see patients in the Colonial Heights Clinic.
He received his Bachelor of Science in Biology from Randolph Macon College and his Doctorate of Physical Therapy at Virginia Commonwealth University.
Schultheis treats patients from all age groups and activity levels ranging from the adolescent athlete recovering from injury to the older adult wanting to remain active.
The Midlothian Clinic offers Comprehensive Physical Therapy Services, Work Hardening and Conditioning, Vestibular Rehabilitation, Postural Assessments and Orthotic Fittings. It is located off of Midlothian Turnpike (Route 60) where the Powhite Parkway ends.
In his spare time, Schultheis is an avid fitness enthusiast and enjoys swimming and long distance running.
He is an active member of both the Sports Backers Marathon Training Team and the Richmond Road Runner's Club. He has completed nearly 10 marathons throughout the state and has run the New York City, Marine Corps and Boston Marathons.
Earlier this year, as he trained to run the 2014 Boston Marathon, Schultheis blogged about running for Style Weekly, Richmond's alternative magazine for news, art, culture and opinion.
For more information, or to schedule an interview, please contact Paula Lumsden, Tidewater Physical Therapy's Director of Marketing and Communications, at plumsden(at)tpti(dot)com or 757.873.2302.