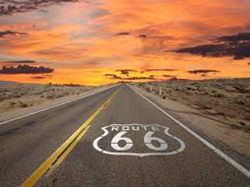 Albuquerque is one of the most exciting destinations along old Route 66 and we are proud to welcome families and other guests for an opportunity to enjoy part of America's most prized historic activities --John O'Hara, GM
Albuquerque, New Mexico (PRWEB) June 25, 2014
The Hotel Andaluz, one of Conrad Hilton's first properties built in 1939, announces it will now offer a family travel package with activities that give a nod to the hotel's Route 66 roots. The package will include hot air ballooning with Rainbow Ryders, tickets for two adults and two children for the ABQ Bio Park (which includes the Albuquerque Zoo, Aquarium, Botanic Gardens) including passes to the ¾ scale narrow gauge train that connects them all, and a Route 66 map waiting for you in your guest room. The total package price is for four and costs $375 per night plus tax with a minimum of 2 nights.
"Summer travel is all about spending time with family," said John O'Hara, Hotel Andaluz's General Manager. "Albuquerque is one of the most exciting destinations along old Route 66 and we are proud to welcome families and other guests for an opportunity to enjoy part of America's most prized historic activities."
Details of the package:
*A Route 66 map will be in your room upon arrival
*Tickets for the Albuquerque BioPark, including passes on the narrow gauge train to get you from the zoo to the aquarium and botanic garden
*2 hour ride on a hot air balloon with experts at Rainbow Ryders—you will be picked up at sunrise by Rainbow Ryders at the hotel property
The package is valued at: $1,100
Route 66 was first commissioned in 1926, picking up as many bits and pieces of existing road as possible. The first route alignment ran north/south through Albuquerque, part of a giant S-curve that included Santa Rosa, Santa Fe, Albuquerque and Los Lunas as well as many Indian reservations. The original section was 506 miles of mostly unpaved road, but by 1931 federal money was designated to realign the road to a more east-west direction and by 1937 the entire route was paved rom Chicago to Santa Monica. The road carried thousands of GIs longing for a better look at America and looking to see what the country held in store for them. Central Avenue, only one block away from Hotel Andaluz, is part of the original Route 66 roadway.
Package is based on availability; must be booked 2 weeks in advance. For more information contact the hotel: 877 987 9090
FOR MEDIA INQUIRIES:
Jennifer Hobson-Hinsley
505 603 8643
Jennifer(at)jlhmedia(dot)com
About Hotel Andaluz: A leader in eco-friendly hotels, Hotel Andaluz has a rich history in downtown Albuquerque, New Mexico. The fourth hotel ever built by Conrad Hilton, Hotel Andaluz was returned to its former glory in 2009 by current owner and local resident Gary Goodman. Hotel Andaluz is the only Historic Gold LEED Certified hotel in the Southwest and the only AAA Four Diamond Hotel in Downtown Albuquerque. With 107 rooms and suites with a variety of meeting spaces, Hotel Andaluz is the only boutique hotel in the City Center and a popular destination for parties, business meetings and weddings. The building is on the historic registry and will celebrate its 75th anniversary in June 2014. http://www.hotelandaluz.com.