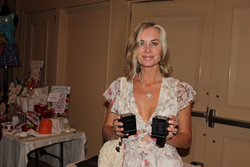 Irvine, California (PRWEB) June 26, 2014
The Ageless Derma skin care line is quickly becoming the latest celebrity must-have beauty staple, with youth-defying creams and make-up items. The company distributed their much-desired gift bags to all of the 41st Annual Daytime Emmy Award nominees and the subsequent winners this past weekend. At least 1100 attendees of the Daytime Emmy Awards were also presented with Ageless Derma products, which use powerful physician-grade natural ingredients.
Eileen Davidson, Emmy Award Winning Lead Actress in Days of Our Lives, and Kelly Sullivan, nominated for Best Supporting Actress in General Hospital, can be seen with huge smiles on their faces as they accept their Ageless Derma gift bags.
Just one of many featured products included in the gift bags for all to enjoy was Ageless Derma Mineral Makeup. Ageless Derma's mineral makeup line contains the essential Vitamins A and E plus skin-perfecting green tea extracts. This mineral makeup will hide skin flaws such as blemishes, dark circles beneath the eyes and other imperfections. The Ageless Derma mineral makeup line is free of parabens and contains natural anti-inflammatory agents that can slow the aging process. This makeup can be safely used on sensitive skin and is a natural sun protectant. It is a favorite of those who know how to pamper their skin and subtract years from their appearance.
The Daytime Emmy Award gift bags also contained Ageless Derma Anti Wrinkle Cream to the delight of all. This wrinkle-defying cream contains natural peptides to lessen the depth of wrinkles. Ageless Derma also has CoEnzyme-Q10, a natural enzyme that can reactivate collagen and elastin. Other peptides and stem cells are contained within Ageless Derma Anti Wrinkle Cream, making this a prime giveaway product in the Daytime Emmy gift bags.
Whether one was an attendee or a nominee at the Daytime Emmy Awards, all were excited to receive Ageless Derma Eye Cream. This cream specifically targets both dark circles under eyes and the wrinkles that may occur there. Using two strong yet natural state-of-the-art ingredients, Vitamins E and K, Ageless Derma has found the solution that actors and everyday people seek to make their faces look younger and less tired.
The Ageless Derma Anti Aging Intensive Skin Brightener was another key product strategically placed in the Emmy gift bags. Many of those at an event such as this are seeking ways to create a flawless complexion. With this Ageless Derma product, the search is over. Dark spots, liver spots, sun spots and other imperfections are brightened and diminished with this skin product that contains six natural botanical ingredients.
The Ageless Derma skin care company makes a complete line of doctor formulated products. They promote skin care health and beauty by using the most advanced and scientifically sound ingredients that have been clinically tested. Dr. Farid Mostamand, owner and operator of Ageless Derma, is proud to bring his line of products available to the public via his company's web site and at The Focus Medical Spa, located in Orange County, California.