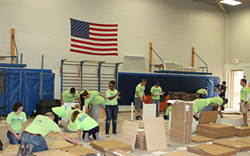 We are so very honored to be part of a project that will give the children something they can count on for years to come: a valuable head start and interest in learning.
Norcross, GA (PRWEB) June 25, 2014
Reed Construction Data, the AIA, Hanley Wood, and sponsors USG, Sherwin Williams, NuToys, Ecore and Landscape America, plus a team of more than 150 volunteers, are coming together to tackle a special one-day blitz build project for underprivileged infants, toddlers and preschoolers in Chicago.
The volunteer architects, engineers, contractors and skilled industry professionals – many in town for the 2014 AIA National Convention – will paint, put down new floors, replace worn ceiling tiles, create colorful play/study rooms and construct a new, age-appropriate playground. In just one day, they will transform the Arthur A. Libby school building into a bright, colorful center that inspires the children to learn and achieve.
"It's a privilege to be working with Metropolitan and all of these very talented, very dedicated volunteers and sponsors," stated Renee Pinczes, Vice President of Finance, Reed Construction Data and President, AEC Cares. "We are so very honored to be part of a project that will give the children something they can count on for years to come: a valuable head start and interest in learning."
The project in Chicago marks the fourth annual AEC Cares project organized by Reed Construction Data. Starting in New Orleans in 2011, the AEC Cares teams rallied to rebuild five houses devastated years earlier by Hurricane Katrina. In 2012, the volunteers came together in Washington, D.C., to rebuild a special house for homeless teens, and in 2013, the volunteers completed over $225,000 worth of renovations to a facility for homeless, disabled veterans and adults in Denver.
For much of this year, AEC Cares, Reed and the design team members have been working to complete preliminary tasks for the Metropolitan project in Chicago. With lead architect and project manager, Brandy Koch, AIA, these teams have set the ground work for the one-day blitz-build that will bring everyone together to finalize the center's transformation.
"One person really can make a difference," said Koch, who is participating in her fourth AEC Cares project. "I love the annual AEC Cares projects and the way they bring everyone in my profession together for such a great cause. I have gotten so much from AEC Cares these past years that being able to give back this year as project manager was the least I could do."
The blitz build project starts on June 25 at 8 a.m. CDT and by the end of the day, the teams of volunteers expect to reveal the bright, cheerful new Metropolitan Early Learning Center.
"Our sincere thanks go to all the volunteers – many of whom are from out of town and are new to us – who are contributing their time on this special day of service," says Ric Estrada, President and CEO, Metropolitan Family Services. "We also appreciate this opportunity to be good neighbors – to demonstrate value and help emphasize our ongoing commitment to families in Chicago's greater Englewood community."
"Many of our volunteers and many of our sponsors have been with us for all of the annual AEC Cares projects," stated Laura Marlow, Senior Director or Business Development, Reed Construction Data. "It has been a privilege year after year to use our strength within the industry to build lasting differences."
To learn more about AEC Cares, visit http://www.AECcares.com.
About AEC Cares
AEC Cares is a 501c3 not-for-profit corporation actively supported by Reed Construction Data with the AIA and Hanley Wood, generous sponsors, donors and volunteers. Bringing together architects, contractors, manufacturers and industry professionals from across the United States and Canada, AEC Cares works to create positive change through meaningful projects that benefit a new community every year. To learn more about AEC Cares, visit http://www.aeccares.com.
About Metropolitan Family Services
Metropolitan Family Services empowers families to learn, to earn, to heal, to thrive. Part mentor, part motivator, part advocate, since 1857 Metropolitan has been the engine of change that empowers families to reach their greatest potential and positively impact their communities. Metropolitan reaches more than 63,000 families and individuals annually through seven community centers, with services that promote education, economic stability, emotional wellness and empowerment. For more information, visit http://www.metrofamily.org.
About Reed Construction Data
Reed Construction Data, a division of Reed Business Information and the Inaugural Strategic Partner of the AIA, is a leading North American provider of construction information. Reed provides actionable insight to construction professionals through a diverse portfolio of innovative products and services, including national, regional and local construction project data, accurate and reliable construction cost data, effective marketing solutions and dynamic market intelligence. To learn more about Reed, visit http://www.reedconstructiondata.com.