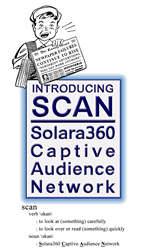 'We have just started our Solara360 Franchise in Santa Barbara County and already receiving a terrific response,' Cary Losson, President of Losson Strategic.
Vancouver, British Columbia (PRWEB) September 09, 2014
Tracy and Cary Losson are already successful entrepreneurs with numerous business successes to their credit including Losson Strategic. Making a difference in the community has always been in their hearts and at the heart of their business endeavors. Solara360's SCAN Franchise System and Losson Strategic are a perfect match and the first winners are Santa Barbara County's Charitable organizations. Santa Barbara Food Bank, Santa Barbara Channel Keeper, Direct Relief. Santa Barbara Museum of Natural History and the Santa Barbara Chamber of Commerce all have a strong presence on the local network.
"Being able to give back to our community by helping local business reach out to community with a 'buy local' approach is a natural fit for Tracy and I," says Cary Losson. "This is our community. This is where we raise our children. To know we are helping our local economy and supporting our local charities is a great feeling. We are proud to be part of the Solara360 Franchise family. Their business philosophy is right in line with our own."
"Solara360 has always been about community based small business, says Dorn Beattie, President and CEO of Solara360, our SCAN Digital Signage Captive Audience Network levels the playing field allowing local small business to effectively compete with big business."
__________________________________________
Interested in joining our Solara360 Franchise Family? Go Here
Who we are:
Established in 2007 and based in Vancouver, British Columbia, Solara360, Inc. is an international Franchiser, manufacturer and exclusive source of Solara360 DualView® Digital Displays available only to Solara360 Franchisees. As a member of both the International and Canadian Franchise Associations and VETFran, Solara360 offers its Franchisees exclusive protected areas to utilize its unique Franchise model and exclusive one-of-a-kind technology.
Solara360 Franchisees benefit by having all complex technology managed by the Company's Network Operations Center. Solara360 Franchisees are empowered to run more efficient businesses by providing high-quality products and services supported by best-in-class technical management and support. The Solara360 Franchise is aimed at driving success while balancing the family lives of its franchisees.
For more information about the company or the process of opening an award-winning franchise, visit http://www.solara360.com