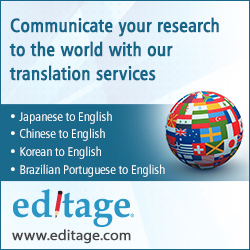 Get a Publication-ready Translated Manuscript!
(PRWEB) June 26, 2014
In line with its mission to promote the development of global science, Editage launched scientific manuscript translation (combined with editing) for five languages—Japanese, Simplified Chinese, Traditional Chinese, Korean, and Brazilian Portuguese. The translation service will cover academic and scientific documents, conference proceedings, and presentations across a range of subjects—from medicine and life sciences to engineering and business. The bilingual translation service includes manuscript editing. Not only will authors receive an English version of their original manuscript, but their manuscripts will be edited by Editage's subject-specialist expert editors who will ensure that the manuscripts meet international publication standards. Under the translation service, every manuscript is queued up for a thorough translation, edit, and review process to ensure that it retains the original meaning and is publication-ready.
With the addition of the new service offering, Editage's publication support solutions will cover all stages of the publication process, from manuscript preparation and finalization to submission and post-submission support. The idea behind offering translation as an independent service took seed from Editage's goal of enabling ESL (English-as-a-second-language) authors overcome the language barrier and publish their research in international English-language academic journals. This enables Editage to increase its outreach and help more and more authors achieve their publication goals.
More information is available here.
About Editage: Since 2002, Editage, the scientific communications brand of Cactus Communications, has been offering best-in-class editing and publication support services to authors and has emerged as a leading player in the global STM (scientific, technical and medical) editing arena. Equipped with its experience of over 12 years and understanding of the needs of ESL authors, Editage is confident that its range of author support solutions will help accelerate the growth of global science.
Website: http://www.editage.com/
To learn more, contact:
Zinnia Darukhanawalla
Online Marketing Manager
510, Shalimar Morya Park, Off Link Road
Andheri (W) Mumbai 400053
Phone: +91 22 6714 8888, ext. 7147
Zinnia.Darukhanawalla(at)CactusGlobal(dot)com