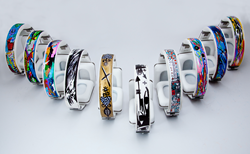 Monster is proud to donate our Inspiration headphones for Haiti's Master Painters to create pieces of art to benefit an artistic project like EPAC HAITI
New York, NY (PRWEB) June 25, 2014
Monster, the world leader in high-performance personal audio, today announced the launch of a creative new charitable initiative, "Headphones for Haiti," to benefit the people, economy, and arts community of the Caribbean nation. This initiative is aimed at encouraging entrepreneurship within the arts and culture community of Haiti and help spur job creation and improve the quality of life as Haiti continues to rebuilds from the devastating earthquake of January 2010. Monster's "Headphones for Haiti" campaign will also serve as a way to generate positive awareness about the art, culture and people of Haiti.
To kick off the initiative, the company has teamed up with the Enigma Performing Arts Center of Haiti (EPAC HAITI), for a unique "Headphones for Haiti" fundraising event. Monster donated 100 pairs of its Inspiration™ headphones to be used as "blank canvases" that have been hand-painted by ten renowned Haitian Master Painters, including Joseph Eddy Pierre, whose renowned mixed media works, focusing on trans-cultural experiences, are in great demand at galleries worldwide and Frantz Zephirin, St. Jean Saint Juste, Richard Barbot, Mario Benjamin, Patricia Brintle, Joseph Eddy Pierre, Yael Talleyrand, Pascal Merisier aka "Pasko", Levoy exil, Harold Dessalines, Pascale Monnin, Philippe Dodard and Patrick Ganthier aka "Killy".
Each Haitian Master Painter was given ten Monster headphones, which they have transformed into unique, personalized works of art. Ten of the hand-painted headphones will also have accompanying canvas paintings by the artists, to be auctioned at a celebratory launch event in New York City on June 25, 2014. The additional hand-painted headphone creations will be auctioned on eBay (ebay.com/headphonesforhaiti) from June 23 to July 1, 2014. All money raised at both the New York silent auction and the online auction will be used to help fund construction of the major new EPAC HAITI performing arts center. The "Headphones for Haiti" project is part of Monster Cares™, Monster's charitable division that was created to support local charities with education, music, sports and technology.
Head Monster Noel Lee noted: "The people of Haiti continue to show their strength of purpose and resilience and are rebuilding their country's economy, infrastructure and arts community. Monster is proud to help support this rebirth – especially in the artistic community. As a country steeped in art and culture, where four out of every sixteen citizens are artists it was an obvious choice to donate 100 Monster Inspiration headphones. We created this headphone out of a desire to help music lovers elevate both their listening experience and their self-expression, with an artistic and emotional signature that strives to allure, inspire, and mystify, while also offering truly great audio performance. We're especially pleased and honored by the opportunity to donate our headphones so they can be used by Haiti's Master Painters to create pieces of art to help the people of Haiti, and to benefit an artistic project like EPAC HAITI, which is so important and vital to helping rebuild the country."
EPAC HAITI: Helping Restore Haiti's Arts Community and Boost the Island's Economy
The EPAC HAITI Performing Arts Center, designed by world-renowned Pritzker-Prize winning architect Kevin Roche, is a groundbreaking project that will inspire and transform generations of young people, while providing a much-needed boost to the Haitian economy and creating over 4,000 jobs for Haitian workers. Haiti is a country steeped in art and culture, where four out of every sixteen citizens are artists. EPAC HAITI will be a true national cultural center that will educate, employ, entertain, while also creating a major tourist attraction in Haiti. The EPAC HAITI project enjoys full support of the Haitian artist community and see this project as a life line.
ABOUT MONSTER
For the past 35 years, Monster has been a catalyst for innovation and big ideas. Discovering that cables in hi-fi systems influenced the sound, Head Monster Noel Lee developed Monster Cable® - an immediate hit. Monster engineered the sound of Beats® headphones, and has since become the world's leading manufacturer of high-performance headphones, all featuring Pure Monster Sound® technology. Today, the company offers advanced connectivity solutions for professional musicians, home entertainment, computing, mobile and gaming, as well as high performance AC Power and conditioning products. Monster continues to lead in innovation with over 662 patents worldwide and 100 pending, offering more than 5,000 products in over 160 countries. Monster also prides itself in helping those who are in less-than-fortunate circumstances through Monster Cares®. Above all, Monster does what it does Because The Music Matters.
Explore the world of Monster at http://www.monsterproducts.com. To become a fan of Monster® products, please follow us on Facebook (http://www.facebook.com/monsterproducts) or Twitter (http://www.twitter.com/monsterproducts).
ABOUT EPAC HAITI
EPAC HAITI is a state of the art performing arts and convention center that will be built in the country of Haiti. World-renowned Pritzker prize winning architect Kevin Roche designed the center. Soon EPAC HAITI will be a national Haitian cultural hub and entertainment destination for Haiti's people and tourist. With this initiative, EPAC HAITI will promote economic development by creating over 4,000 jobs and provide the highest caliber of arts education in the Caribbean. The center will include a 3,000 seat concert hall, a state of the art convention center, a school for performing arts, museum, gallery, Imax movie theater, a 500 seat theatrical theater, artisans market, TV studio and many more. EPAC HAITI was founded by Haitian-Americans Youdy Sanon (the entrepreneur) and Kishner Deprinvill (the photographer and film maker). Their passion envisions a modern and respected Haitian society driving by its rich cultural heritage.
ABOUT THE ARTISTS
JOSEPH EDDY PIERRE: Much of Joseph Eddy Pierre's art deals with identity, trans-cultural existence, and African-Diasporic rituals. Working in mixed media, with an emphasis on painting and installation, Joseph Eddy Pierre's art is layered, luscious, and often dense. Joseph quality of work is in demand throughout galleries worldwide.
ANNICK DUVIVIER: A former student of the renowned Haitian painter Ralph Allen, Annick Duvivier studied Fine Art and Illustration at Altos de Chavon in the Dominican Republic. Many of her works have been shown in exhibitions throughout Haiti, Dominican Republic, United States and Europe. Annick is one of the most in demand young master painters around.
ABOUT EBAY GIVING WORKS
Founded in 1995 in San Jose, Calif., eBay Inc. is a global commerce platform and payments leader connecting millions of buyers and sellers. As we help to drive the next generation of commerce, we believe in the power of our employees, technologies and global networks to also enable positive social and environmental change in the world. Integrated into eBay's regular buying and selling platform, eBay Giving Works is a program that allows fundraising for charity by giving consumers the ability to shop, sell and donate to the charity of their choice. Since 2003 the program has raised over $470 million for 30,000 nonprofits in the US, UK, CA and DE. The eBay Giving Works program is part of a portfolio of programs, resources, and tools across eBay Inc that are intended to enable and inspire online charity donations at a scale never seen before. Learn more at givingworks.ebay.com.