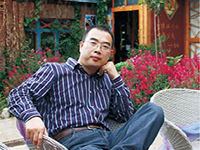 (PRWEB) June 26, 2014
Just like no two leaves are totally the same in the world, there do not exist two enterprises that share the same management modes or ideas. Feng Jianwei, the top leader of Zhengzhou Boyu Automation Device Co., Ltd., created an extraordinary enterprise pattern by different minds. iAbrasive reporters recently had an interview with Feng, the creative mind.
Explore, Accumulate, Make Breakthroughs
In 2010, when China exported most of abrasives automation device, Feng Jianwei, the top leader of Zhengzhou Boyu Automation Device Co., Ltd., came up with an unbelievable idea: To make flap disc automotive device by himself. The decision was made up after years of observation on abrasives market trend. He found that although the foreign flap disc market was engaged in device updating, most foreign enterprises could do nothing but wait due to the expensive device of Germany. He took this opportunity to improve quality and intend to plunge into foreign trade.
Explore & Develop
Things went hard for Feng who had little experience. He came up with an idea to focus on the imported flap disc automotive machine.
"All innovations begin by imitation. Once I do something, I put full enthusiasm into it," Feng said. With the effort of the whole team led by Feng, the first generation of flap disc automotive machine went out in 2011. One set was left for Boyu, the other sold to a friend. During the use of the device, Feng found a lot that could be done to improve the first generation.
Solutions to the problem have been figured out by the team. The first generation of flap disc automotive machine laid the foundation of well-functioned, favorable appearance, and easy-to-handle machines.
Calm down & Accumulate
2012 was a year of vital importance to Boyu. After Boyu made improvements to the first generation, the second generation, with a total of 12 sets, was sold out instantly and was well-received, which was a great shock to Feng and his team. However, he didn't lose his head over the exciting news, on the contrary, he tried to learn from the experience and ponder on the deficiencies of their device.
From clients' feedback, Feng realized that despite the multiple functions, the complexity to handle, workers' capability to adapt to and instability of the parts were ignored. Faced with the problem, Feng made a bold decision—suspend operation to consolidate. It was his right decision that laid the foundation of a stable future.
Innovation & Breakthrough
After half a year's adjustment, Boyu had made a huge breakthrough both in production and management. It was a challenging period when Boyu developed the third generation of flap disc automotive machine. Not only had the new generation solved all existing problems, but it also fulfilled the improvement on function and up to international standard. The striking feature of the third generation was it achieved the sustainable development flap disc automotive device. In Aug, 2013, the third generation of Boyu flap disc automotive machine went public in foreign markets and received user satisfaction.
Product Management & Positioning
China users have also paid attention to Boyu's device. Many users paid a visit to Boyu and received sincere treatment. iAbrasive reporters have learned that the biggest advantage of Boyu's machine is the upgrading space, which makes it convenient for users to upgrade and save costs. Another advantage lies in dust removal system, which minimizes the damage to workers.
Market, Service & Foresight
Usually, automotive precision machines are exported and it is rather difficult for Chinese products to go abroad. Boyu has made it in 2-years time. At present, Boyu has appointed agents in six countries, including America, Germany, Poland, North Africa, and Australia. New clients are still emerging.
"This year orders are quite abundant, so maintain product stability and offer good after-sales service are important," Feng said. With ever increasing orders, Boyu after-sales service has been on schedule. Feng is honest to reveal that disadvantage still exists in after-sales service, which he is to devote most of his time and energy.
Feng is a person of thought who has a clear picture of his life, as well as Boyu's development. Automotive devices will have a better future with his leadership. - iAbrasive report
For more information about abrasives industry, please visit the official site of iAbrasive: http://www.iabrasive.com/