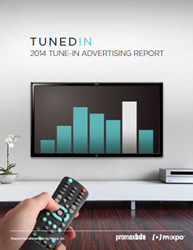 "Twenty four percent of advertising dollars in the local tune-in space are spent on digital, up from eighteen percent a year ago," Peter Goldstein, VP of Sales and Business Development at Mixpo.
Seattle, WA (PRWEB) June 25, 2014
Mixpo, video advertising solution provider, today announced the release of the TUNEDIN 2014 Tune-In Advertising Report, at the Promax Station Summit Conference. For the second year in a row, Mixpo surveyed local broadcasters and syndicators across the country to better understand how the TV industry uses digital advertising to drive tune-in. This year, Mixpo partnered with PromaxBDA, the global community of professionals engaged in marketing and promotion of television and video content, to survey over two hundred broadcasters in sixty plus DMAs to glean key insights and real-world feedback from stations large and small on how and when they employ online advertising.
With digital video advertising relatively ubiquitous among TV stations, this year's study explores three areas: online advertising in the media mix, how local broadcasters view digital advertising, and how local broadcasters are taking advantage of mobile and social advertising opportunities.
Some highlights:

90% of stations have already or plan to advertise online in 2014.
86% of stations that advertise online will use video.
Local station spending on digital advertising as a portion of total advertising budget has grown by 33% from 2013 to 2014 driven by decreases in radio, cable TV and out of home.
75% of broadcasters believe social ads are critical or very important to driving ratings.
58% of broadcasters indicate that mobile advertising is critical or very important for increasing viewership.
"We are pleased to see that local station spending on digital advertising as a percent of total advertising dollars is growing: 24% of advertising dollars in the local tune-in space are spent on digital, up from 18% a year ago," said Peter Goldstein, VP of Sales and Business Development at Mixpo. "Mixpo has been working with tune-in advertisers for six years and we believe this vertical is well served by online video; it is great to see that they agree."
The report concludes with best practices for local broadcaster digital advertising as well as two recent success studies on how local stations Fox50 in Raleigh Durham and WPHL17 in Philadelphia used digital advertising to grow their ratings during 2014 February sweeps. To download a complimentary copy, please visit http://mixpo.co/TunedIn2014.
About Mixpo
Mixpo enables agencies and media companies to build, deliver and measure interactive video ads on all devices and in the news feeds of all major social sites. Set up is fast and easy whether you do-it-yourself or use Mixpo as a managed service. Mixpo delivers the industry leading solution for broadcasters to measurably grow programming awareness by engaging viewers across all digital screens. In 2014 and 2013, Mixpo was selected by Forbes as one of America's Most Promising Companies. Mixpo, Inc. was founded in 2007 and is headquartered in Seattle with offices in New York, Boston, and Victoria BC. More information can be found at http://www.mixpo.com.