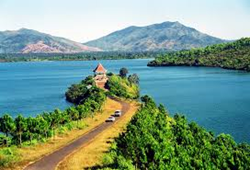 more than 1,500 tickets from/to Hanoi-Pleiku will be sold from 136 USD
Hanoi, Vietnam (PRWEB) June 26, 2014
Vietnam-airline.org has been operating since 2008 by Smile Travel Vietnam-a reputable travel company in Vietnam providing tours, Vietnamese visa services, air tickets and hotel bookings. The website provides customers with both domestic and international flights operated by Vietnam Airlines. To meet the increasing demand of travelers, Vietnam-airline.org is going to present cheap tickets on the round flights from Hanoi-Pleiku.
Pleiku is the capital of Gia Lai province, which is located in the central highland region of Vietnam. It is about 50 kilometres south of Kon Tum and 200 kilometres away from Qut Nhon. Pleiku is located at the intersection of Routes 19 and 14, making it the starting point for any kind of exploration in the Highlands.
Currently, Vietnam Airlines servers 3 routes connecting Pleiku with others including Hanoi, Hochiminh and Danang City. The route between Pleiku and Hanoi has only 2 flights every day while the route from Hochiminh to Pleiku is operated with 4 flights/ day. It takes about 2 and half hours to fly from Hanoi to Pleiku.
According to the Chief Executive of Smile Travel Vietnam, more than 1,500 tickets from/to Hanoi-Pleiku will be sold from 136 USD. The cheap tickets can be purchased from June 28th to August 30th 2014. All interested visitors can access the website Vietnam-airline.org, then select the tab "Book your trip," and choose their own flight. With the modern booking system, passengers can book an air ticket in the quickest and easiest way.
For further details, please call hotline: +84 988 832 041. The customer services are always available for help.
About vietnam-airline.org
It helps travelers all over the world easily get an air ticket through the Internet. With the eye-catching interface and intelligent design, customers can book a ticket just in several minutes. Vietnam-airline.org now offers a total of 95 routes to 29 international and 21 domestic destinations. Passengers can book at any time as the automatic online system is available all the time.