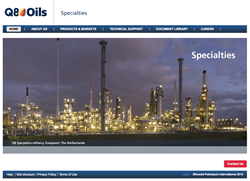 The website provides an overview of the main products and markets serviced by Q8 Specialties.
Europe (PRWEB UK) 26 June 2014
Commenting on the launch of the new Q8 Specialties website, Q8Oils brand and communication manager Neil Grieve says: "The website provides an overview of the main products and markets serviced by Q8 Specialties, and includes links to brochures and product data sheets that can be downloaded to view offline."
He goes on to say that many of the process oils available from Q8 Specialties are derived from the company's own base stock, Kuwait Export Crude (KEC), which boasts a consistency and quality that cannot be matched by any other company. "KEC provides Q8Oils with the perfect feedstock for refining some of the world's finest base oils and petroleum-based derivatives, and its consistency and quality means that Q8Oils' customers can have total confidence in the performance of our Group products both now and in the future." says Neil.
Amongst the products on the website is Q8 KAP, Q8Oils' range of aerosol propellants which, containing a very pure gas mixture, are used for numerous applications including cosmetic, commercial, and industrial products. Q8 KAP is available via truck or containers, and blended to specific customer requirements.
Details are also available for the Q8 range of performance base fluids, including base stocks, extracts, and waxes. Products include Q8 Puccini, which is used in numerous markets, including additives, coatings, paints, and textiles; and Q8 Paganini, which is used for ink components or as an extender oil for rubber processing applications.
Q8 Bitumen and Q8 Multigrade Bitumen also feature and, renowned for their quality and consistency, are used for many applications throughout the construction industry, including paving, roofing, commercial flooring, and as a raw materials for emulsions and custom-modified products such as noise damping components for automobiles, washers, dryers, etc.
The new website can be found at http://www.Q8Specialties.com.
For further information, email spec_prod(at)Q8(dot)com or contact the international office on +32 (0)3 247 38 11.