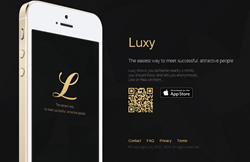 Los Angeles California (PRWEB) June 27, 2014
A very interesting announcement has been made by the APP - Luxy known to be one of the best for successful people who are looking forward to find the love of their lives. A tough analysis has concluded the fact that the website houses 75% successful females and just 25% men.
The announcement that such a high number of successful females looking to date and find other fellow successive males comes as a surprise for many people. In fact, the truth is that it shouldn't be considered like this at all. What's even more surprising is that comparing to a long time ago when females were under men from all the points of view, not some of as successful, or even more successful than many men from all around the world.
As females who have their own job, who are successful but also charming have no time to find dates, such a service is sure to make their job of finding somebody to date or even spend the rest of their lives with a lot easier. As most of the site's population consists of women who are all successful looking for their dream man, chances are that most of them eventually manage to find somebody worth the time spent.
If you'd like to download the app and take part in one of the most successful dating app for successful people, please download Luxy in App Store or visit http://luxy.us/.
About Luxy
With a high number of members, Luxy represents one of the most loved online dating apps designed to benefit people who are successful. As both men and women are present on the site, the job of finding someone to date or even one day marry has gotten a lot easier, as the job of finding a good match is done by the impressive services that the application offers.