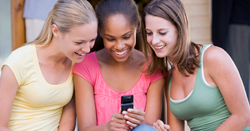 we at NoBullying find it essential to remind users of any social media website or application to always show kindness and respect when it comes to posting or commenting
London, UK (PRWEB) June 25, 2014
The Secret app is an iOS app that allows people to share messages anonymously within their circle of friends, friends of friends, and with the entire World Wide Web. But why is it different from other applications and is anonymity the new way to go online? NoBullying explores in an article released today.
The addictive Secret app has been taking the teenage and youth world by storm. But how is it different from other anonymous sharing applications?
The secret app prides itself on the fact that it is solely designed for sharing with friends, which gives it an element of suspense, making it more interesting and addictive for people reading the updates because those updates can be sent by their roommate, brother, sister, workmate or spouse.
With Facebook and Twitter asking and pushing people to use their real names and no aliases, social media has always denounced the hidden and the alias, simply because it feared and continues to fear the cyber bully and the sexual predator. The Secret app is now one of the online outlets where one can be honest without fear of any consequence. It is the internet's new safe way of saying what is on one's mind without damaging their reputation or how others perceive them, but is it really essential to be that "secretive"?
The secret app, once installed, shows user posts from mutual contacts on one's phone book as well as the friends of each contact. Once a user taps the little heart icon which indicates they like one posted secret, that particular secret is shared with their friends and if one of those second degree contacts taps the little heart, it goes to their contacts. There are no screen names or pseudonyms.
But the Secret app will allow the original poster of the secret to either delete comments or report them for being inappropriate comments. A user can also hide or report any secret they see for violating the terms of content on the Secret app.
Secret is doing great for providing a safe space for people to let their inner thoughts out but NoBullying encourages users not to post secrets that will make them easily identifiable and to always comment on someone's secret with positive comments and to always remember, revealing a secret is already brave enough without the evil comments.
Macartan Mulligan, Co-Founder of NoBullying.com, said, "So far nothing negative has been said about the Secret app but we at NoBullying find it essential to remind users of any social media website or application to always show kindness and respect when it comes to posting or commenting, it all boils down to kindness."
He added that parents and teachers should make a point to educate the younger generations about the sad outcome of bullying online and offline. According to Mulligan, it is quite imperative to press for more firm laws condemning all acts of bullying and harassment.
NoBullying.com features many pages dedicated to parents, teens, teachers, health professionals as well as posts related to cyber safety and the latest news about law making concerning curbing Bullying worldwide as well as inspirational Bullying Poems and famous Bullying Quotes.
The website regularly updates its bullying statistics and cyber bullying statistics as it is essential to understand how widespread the bullying epidemic is. It also regularly runs cyber bullying surveys and questionnaires to get recent updated statistics on everything related to cyberbullying.
He also added that anyone suffering from bullying in any form or way can always find advice and help on the NoBullying website – but if anyone is suffering from severe bullying or cyber bullying, the best thing is to talk to someone locally – a parent, teacher or local organization that has been set up to help with specialized councilor to deal with this topic.