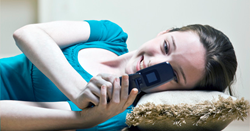 It is never wrong to have a talk about the potential dangers of being online and available all the time.
London, UK (PRWEB) June 26, 2014
Cell phones are now an essential part of the everyday culture and this often leads to the parents being worried about what their child is doing with the phone when they are not around. This calls for serious effort on the parents' side to teach their children about Cell Phone Safety with NoBullying's help in an article released today.
With information provided in this guide, parents can finally be able to have the right protection for their children and have ready answers when a child asks about anything related to using their cell phone.
The first rule of cell phone use is teaching children to practice caution about who they text and talk to. This is also a proper time to start discussing the dangers of anonymous chat applications and talking to strangers online.
Social media use is an important aspect of cell phone safety as all phones today are equipped with internet access, making it easier for children to access their social media networks without supervision. Parents should be careful about how much social media their kids are using. It is now easy to track any phone's location via GPS as most social media postings allow "location detecting".
Mapping a child's location and daily habits becomes very easy for a stalker if a child or a teen posts from his/her cell phone with location mapping on. This will let stalkers and other people know exactly where they are or are planning on going with these apps. This in turn allows the bully or stalker to piece information together about where a particular child is going to or what they are doing on a regular basis.
Sometimes children and teens are going to be posting pictures. Not to mention the "selfie dangers", even innocent non suggestive images can reveal a child's identity and their location, an online sexual predator dream come true.
Macartan Mulligan, Co-Founder of NoBullying.com, said, "It is more than essential to teach our children about proper cell phone use and safety precautions related to mobile phones. It is never wrong to have a talk about the potential dangers of being online and available all the time."
He added that parents and teachers should make a point to educate the younger generations about the sad outcome of bullying online and offline. According to Mulligan, it is quite imperative to press for more firm laws condemning all acts of bullying and harassment.
NoBullying.com features many pages dedicated to parents, teens, teachers, health professionals as well as posts related to cyber safety and the latest news about law making concerning curbing Bullying worldwide as well as inspirational Bullying Poems and famous Bullying Quotes.
The website regularly updates its bullying statistics and cyber bullying statistics as it is essential to understand how widespread the bullying epidemic is. It also regularly runs cyber bullying surveys and questionnaires to get recent updated statistics on everything related to cyberbullying.
He also added that anyone suffering from bullying in any form or way can always find advice and help on the NoBullying website – but if anyone is suffering from severe bullying or cyber bullying, the best thing is to talk to someone locally – a parent, teacher or local organization that has been set up to help with specialized councilors to deal with this topic.