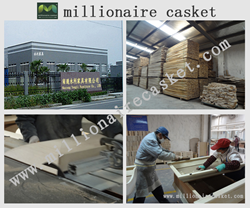 (PRWEB) June 26, 2014
MillionaireCasket.com, one of the world's leading casket manufacturers, has recently announced its selection of infant caskets. What's more, the supplier has launched a special offer for these great caskets; the current discount is up to 27% off. Now, all the company's clients can enjoy the special offer. It will come to an end on July 06, 2014.
"We are very excited to unveil our new assortment of cheap infant caskets for our old and new customers. As is known to all, a great caskets is a must for those who want to show the respect to the past ones. This is why our workers persist in making high quality products only. Also, we offer custom made items on our website. When shopping on our website, worldwide customers can always get excellent items without spending a lot of money," the company's marketing specialist says.
In fact, MillionaireCasket.com has almost all kinds of high quality caskets online for sale. A lot of them are popular for great materials and reasonable prices. The new infant caskets are no exception. All the manufacturer's brand new infant caskets are in stock and ready to ship. It is doing business with some of the industry leaders.
About MillionaireCasket.com
MillionaireCasket.com is a leading casket company that focuses on the business of casket wholesale. This company offers an exquisitely crafted line of all kinds of metal caskets, solid wood caskets, veneer caskets, cremation caskets, rental caskets, orthodox caskets, infant or over-sized caskets and European style coffins. The standard quality control policy is strictly applied here, and a third party quality assurance is also available.
More information can be found at http://www.millionairecasket.com/61-infant-caskes.