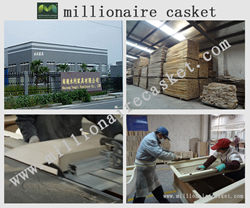 (PRWEB) June 29, 2014
Recently, MillionaireCasket.com, an experienced casket manufacturer in the global market, has unveiled its latest collection of funeral products. In addition, all the brand new items are offered at discounted prices, up to 30% off. There are over 900 items in this new assortment; each of them is made with top quality materials.
What's more, similar discounts are offered for MillionaireCasket.com's excellent caskets (like infant caskets, pine caskets, ash caskets and cherry caskets). During the promotional time, all customers can access the huge price cuts; those who place big orders can get extra coupons. The company understands that all distributors want to save money. This is why it strives to offer the most affordable funeral items.
The company has a lot of funeral products for sale, including casket lowering devices, church trucks, urns, embalming tables and more. MillionaireCasket.com has a professional design team; they take plenty of factors into consideration when creating new products. Additionally, all its workers are skillful and professional.
Furthermore, MillionaireCasket.com is always considered as a reliable supplier. All its items are offered with a quality guarantee. It is true that it often offers big discounts for its high quality products. The company's main purpose is to help worldwide distributors to get cost-effective funeral products.
About MillionaireCasket.com
MillionaireCasket.com is a leading casket company that focuses on the business of casket wholesale. This company offers an exquisitely crafted line of all kinds of metal caskets, solid wood caskets, veneer caskets, cremation caskets, rental caskets, orthodox caskets, infant or over-sized caskets and European style coffins. The standard quality control policy is strictly applied here, and a third party quality assurance is also available.
More information can be found at http://www.millionairecasket.com/42-urns.