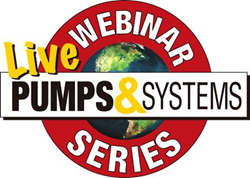 Birmingham, Ala. (PRWEB) June 26, 2014
Pumps & Systems, the leading magazine for pump users worldwide, is proud to announce the "Water Pump System Upgrades" webinar, a presentation made in partnership with Baldor Electric Company, a member of the ABB Group.
The live webinar will take place July 24, 2014, at 1 p.m. Eastern. Registration is free at http://www.pump-zone.com/webinar/water-pump-system-upgrades.
In "Water Pump System Upgrades," Chris Teague, industry account manager for Baldor's power generation and wastewater division, will discuss high-flow, low-head systems that use synchronous or high pole count induction motors. These systems – such as irrigation, flood control and desalination structures – often must have the ability to control the start sequence as well as vary the flow rate, and many times with backup power.
Teague will teach pump users an innovative high horsepower/low speed solution for these kinds of water pump systems.
The webinar will:

Discuss innovative solutions for existing pump systems
Show how to improve efficiency, reliability and performance
Educate participants on the use of proven technology
The one-hour event will include a 45-minute presentation followed by a 15-minute live question-and-answer segment.
About the Presenter
Chris Teague, an industry professional with 24 years of experience, understands the challenges of pump systems. He and the Power Gen team work with customers to create custom solutions for their unique applications and processes. Teague has been with Baldor for 14 years, and is a graduate of Texas A&M University.
About Pumps & Systems Magazine
Pumps & Systems is the voice of the pump and rotating equipment industry. As the leading magazine for pump users worldwide for 20 years, it delivers relevant industry news coverage and powerful technical information to more than 40,000 BPA-qualified managers, engineers, operators and maintenance professionals. Pumps & Systems is published monthly and is the only North American trade publication that covers pumps and related operations in every issue. Pumps & Systems is supported digitally with the No. 1 pump industry website, http://www.pump-zone.com. The magazine also delivers timely information and pump industry news through its monthly e-newsletters—Pump Industry Insider, Pump Users Digest and Products for Pump Users.