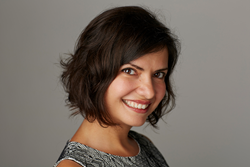 'This new approach offers a streamlined methodology for testing the legibility of typefaces on screens under glance-like conditions,' said Monotype's Dr. Nadine Chahine
(PRWEB) June 26, 2014
Monotype Arabic and Legibility Specialist Dr. Nadine Chahine will present "The Design and Science of Typography for the Automotive Space" at Car HMi Concepts and Systems 2014, a two-day conference for OEMs and major automotive suppliers, engineering and software companies. Chahine will discuss the results of a joint study between Monotype and The Massachusetts Institute of Technology (MIT) AgeLab on how typeface legibility can affect glance time. The presentation will take place on Friday, June 27, 2014, at 8:30 a.m. in Berlin, Germany.
The new study uses an adapted Stimulus Onset Asynchrony (SOA) methodology to create a more flexible, cost- and time-effective way for designers to test specific typeface legibility under glance-like conditions – and help OEMs such as automotive manufacturers and HMI designers select a legible typeface for in-vehicle displays.
"While more work needs to be done, we believe the SOA approach could be further adapted to investigate a wide range of questions relevant to typographic and graphic design in automotive HMI designs," said Chahine. "Our findings also suggest that the methodology could be suitable for various glance-based reading environments, not only for automotive displays but also for medical apparatus, smartphones and other devices."
For more information on Chahine's presentation or to learn more about the research from Monotype and the MIT AgeLab, visit the Monotype newsroom.
About Monotype
Monotype is a leading global provider of typefaces, technology and expertise that enable the best user experience and ensure brand integrity. Headquartered in Woburn, Mass., Monotype provides customers worldwide with typeface solutions for a broad range of creative applications and consumer devices. The company's libraries and e-commerce sites are home to many of the most widely used typefaces – including the Helvetica®, Frutiger® and Univers® families – as well as the next generation of type designs. Further information is available at http://www.monotype.com. Follow Monotype on Twitter, Instagram, LinkedIn and Monotype's Type Case blog.
Monotype, Helvetica and Frutiger are trademarks of Monotype Imaging Inc. registered in the U.S. Patent and Trademark Office and may be registered in certain jurisdictions. Univers is a trademark of Monotype GmbH registered in the U.S. Patent and Trademark Office and may be registered in certain jurisdictions. All other trademarks are the property of their respective owners. ©2014 Monotype Imaging Holdings Inc. All rights reserved.