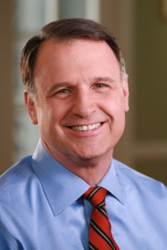 McLean, VA (PRWEB) June 25, 2014
Senator Creigh Deeds led a keynote session at the Psychiatric Rehabilitation Association's (PRA) Recovery Workforce Summit: 2014 PRA Annual Conference on Monday in Baltimore, Maryland. Senator Deeds spoke to the psychiatric rehabilitation community about mental health reform and called on the recovery workforce to put a face on mental illness by building and strengthening relationships with state and federal legislators.
"Mental illness is not just like a broken bone that can be diagnosed with an x-ray and treated quickly with a cast," said Senator Deeds. "It is complex, and the treatment and available services must likewise be complex. We need a system that allows for individuality and the flexibility to provide the right services for every person."
Senator Deeds began work on mental health after his son, who had a serious mental illness, died last year after being denied inpatient treatment. Senator Deeds is currently pushing the Virginia state legislature for mental health care reform. In his speech he provided some background on his personal experience with the mental health system, detailed his vision about what is needed long-term, and provided an overview of the specific changes he has already enacted in Virginia, including legislation he is currently working on.
"Senator Deeds' passion for mental health reform was made clear during his address at the Recovery Workforce Summit," said Lisa Razzano, PhD, CPRP, PRA Immediate-Past Chair and PRF Chair. "He energized the psychiatric rehabilitation professionals in attendance about real progress that is being made and the exciting work ahead of us that will make a real difference in the well being of this country."
The Recovery Workforce Summit: 2014 PRA Annual Conference, June 22-25 at the Renaissance Harborplace Hotel in Baltimore, Maryland is the key training, education, and networking event for the entire psychiatric rehabilitation workforce; including agency executives, educators and researchers, practitioners, and peer support providers.
About the Psychiatric Rehabilitation Association (PRA): As the nonprofit organization focused on growing and training the recovery workforce, the Psychiatric Rehabilitation Association, is the preeminent association for the development, support, and dissemination of information about the practice of psychiatric rehabilitation and recovery. PRA believes that the practice of psychiatric rehabilitation leads to recovery, and thus is committed to the growth of psychiatric rehabilitation in both quantity and quality, and to the universal availability of state-of-the-art psychiatric rehabilitation services for all individuals with mental illness who seek such services. For more information, visit http://www.psychrehabassociation.org.