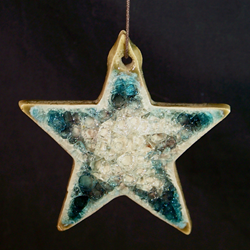 Once someone makes a small purchase, I am surprised at how often they come back for a whole range of items. Even if you never thought pottery was the answer - it really is so versatile!
Ferndale, WA (PRWEB) June 25, 2014
Come summer, there is much to shine about. Long, lazy days and warm, starlit nights. With so many gatherings, barbecues and picnics, shoppers find the need for a simple, yet elegant gift for the host or hostess. Paloma Pottery knows how to acknowledge these high points of the year with ideal gestures of graciousness. The extensive Paloma line offers star shapes in a range of forms. Now, shoppers can enjoy handmade eco-friendly jewelry, magnets and wall art from a thriving artisan business at a discounted price.
Their Star Magnets are affordable works of art - the rich pottery base cradles a pool of dazzling color and light. Their revolutionary design encompasses both environmental stewardship and fine artistic sensibility. Recycled glass, from discarded pieces found along beaches and trails, are crushed and melted into a sparkling glaze with a smooth finish. The result is a strong yet delicate composition. This puts these pieces in a realm all their own.
The Nautical Star Magnet will speak to the sailor or navy veteran. Star Earrings and Pendants are a wonderful offering for both young and old. A Wall Hook Sea Star is the ideal choice for a novel home decor piece - dazzling as an accent to the kitchen, entry or bath. All of these pieces are available in a beautiful range of color combinations from Paloma's Earth, Ocean, & Blanco Series.
A gift from Paloma Pottery makes a statement about ethical business practices, handmade craftsmanship and excellent taste. Paloma employs the other-abled in their production line, offering dignified work to those who may otherwise be displaced. They choose all-recycled packaging from sustainable companies. They also have come to excel in the customer service realm, as an online presence for the past 14 years. Their customers' satisfaction is a clear testimony.
With this offer, now is a great time to put a little extra sparkle into the start of summer. Shoppers receive 20% off their total order on all Star shapes from the full Paloma Pottery collection. Transactions must be completed by July 31, 2014.
As always, new customers receive free shipping on their first order. It is the mark of quality, along with excellent customer service, that keeps customers coming back year after year. "Once someone makes a small purchase, I am surprised at how often they come back for a whole range of items," Whitney exclaims. "Pottery really is so versatile!" Beauty, affordability and eco-friendly design - Let summer shine.
About Paloma Pottery:
Paloma Pottery has been online for 14 years now, and the mark of endurance shines through its work. Continually improving and expanding her line, Founder Nicole Whitney has grown Paloma Pottery into a thriving artisan presence. For those who are seeking exceptional quality gifts with a unique, eco-friendly design as well as solid business ethics, PalomaPottery.com is the place. For more information, please visit http://www.palomapottery.com or call 877-669-0783.