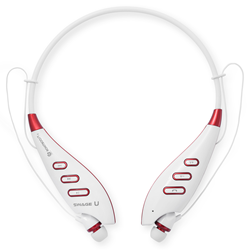 Swage U Bluetooth Headphones come equipped with magnetic ear buds and a highly-comfortable design.
New York, NY (PRWEB) July 08, 2014
As a consumer-driven mobile lifestyle company, Rokit Boost offers today's consumer state-of-the-art mobile accessories that greatly enhance the user experience of popular mobile devices. Rokit Boost's newest product release, the SWAGE U Bluetooth headphones sport a clever design for exceptional comfort and easy listening. The SWAGE U wireless headphones also meet contemporary standards for mobile accessories, as they are available in stylish black and white color options.
Exceptional Consumer Benefits

Premium comfort with lightweight and trouble-free, wearable design
Magnetic ear buds and careful headset design for easy wearing
Standout audio playback quality
Long battery life
Reliable wireless pairing provided by Bluetooth Version 4.0 technology
Built-in microphone for easy, hands-free communication
Capable of supporting two Bluetooth phones connected simultaneously
Extremely-Comfortable Product Design
These high-performance wireless headphones are designed to be worn around the neck. What makes them stand out, though, is their extremely lightweight feel. When an individual uses them while working out or doing anything else, the headphones will feel as if they aren't even there.
The SWAGE U's ear buds are magnetic, meaning they are easily stored when an individual isn't using them. Just simply tuck them in, and the ear buds go back in once the headphones are taken off.
High-Quality Performance
Backed by crystal-clear audio, the SWAGE U headset adds great depth to any music or content to which one is listening. A built-in microphone allows for wireless communication with family, friends, or co-workers. Users can effortlessly communicate for up to 10 meters away from the mobile devices the SWAGE U Bluetooth headphones are tethered to.
The SWAGE U headphones provide up to 8 hours of music playback time and last for up to 100 hours of standby time. They easily support 2 Bluetooth-compatible smartphones that have been simultaneously connected. The Bluetooth headphones' overall lightweight body and strong performance capabilities offer strong consumer value.
Get 'Em While They're Hot
Rokit Boost' SWAGE U headphones are available through its online e-commerce store. They can also be found at Rokit Boost's Amazon seller store. In line with its dedication to consumer value, Rokit Boost offers a 30-day money back guarantee on its products as well as a 1-year product warranty. More details can be found at: http://www.RokitBoost.com.
For a limited time, Rokit Boost has a limited inventory of free SWAGE U Bluetooth Headphones for sampling by independent mobile consumer lifestyle bloggers and independent product reviewers. For more information, interested parties are advised to contact Rokit Boost directly.
Other mobile consumer products can be found on RokitBoost.com, including high-performance power banks, smartphone battery cases, wireless keyboards, Bluetooth speakers, and more.
About Rokit Boost
Rokit Boost is a pioneer of affordable, high-quality mobile accessories. Whether they are innovations including iPhone charger cases, Bluetooth headphones, or wireless Bluetooth speakers/microphones, Rokit Boost's team seeks to add substantial enhancements to great existing products. The company also offers a refurbishment program of certified products for exceptional customer value, at reduced pricing.