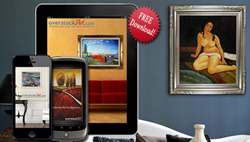 Wichita, Kans. (PRWEB) June 25, 2014
Online art retailer overstockArt is known for its affordably priced, hand-painted art, and the company's customers love the convenience of shopping online. overstockArt made things even more convenient for customers when it announced a new mobile app for iPad, iPhone and Android, which enables customers to browse the same vast selection while on-the-go. Now, overstockArt is adding new features to its mobile app through an update that promises to make shopping and ordering easier than ever before.
The overstockArt mobile app features an easy-to-use interface that's accessible to even the least tech-savvy shoppers. Users can browse the entire inventory of famous oil paintings with just a few finger swipes, and the app makes it simple to zoom in for a closer look. Ordering a painting is also easy, as the mobile app contains a checkout feature where shoppers can order a painting right from their mobile device.
The innovative room view functionality is a great way for shoppers to determine what looks best in their own homes, as it enables them to upload photographs of a real room and digitally place the paintings that they're interested in right on the wall. Through the social feature, users can share these images to Facebook or through email, to get opinions from friends and family, and the Art Gallery feature enables shoppers to save their favorite paintings and view them again at any time. Users can even create their own original artwork using the Turn Photos into Art feature on the overstockArt mobile app, which takes personal photos and prints them on canvas.
overstockArt was founded in 2002, and it was one of the very first online retailers of hand-painted oil paintings. Today, the company's inventory contains more than 90,000 decorating combinations, including high-quality reproductions of the most beloved works by Van Gogh, Monet, Renoir and many others. In addition, the company offers contemporary art by up-and-coming artists from around the world part of their Artist Become collection. overstockArt prides itself on providing low prices and free shipping on every purchase.