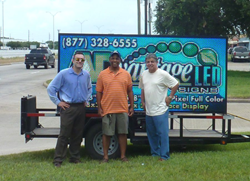 'This is a good opportunity to get the crowd out, meet some legendary players and support a good cause.' – Ronnie Coleman, Houston Oilers
Houston, TX (PRWEB) June 26, 2014
Advantage LED Signs has partnered with Ronnie and Julia Coleman Ministries, The Master's Plan Word Outreach Center and T.D. Jakes' MegaCARE Missions to help sponsor the building of water wells and systems in third world countries. The non-profit charity will host an NFL Former Players Fun Run on Saturday, June 28th, and Advantage LED Signs has agreed to provide signage for the event.
"I have a heart for missions," explains Coleman, who played with the Houston Oilers from 1974 to 1981 under the Luv Ya Blue, Bum Phillips-led era. "This is a good opportunity to get the crowd out, meet some legendary players and support a good cause."
The funds raised will go towards the building and maintenance of much-needed water systems in deprived areas of Kenya and the Dominican Republic. Several ex- footballers will be in attendance, including Coleman, Hall of Famer Elvin Bethea (Oilers), Rayford Cooks (Oilers), Kenny Davidson (Steelers/Oilers/Bengals), Pro Bowler Raymond Clayborn (Patriots/Browns), and Elmo Wright (Chiefs) among others.
To help raise money for the charity, several autographed items are slated to be auctioned off, including an Earl Campbell jersey, footballs signed by Drew Brees, Vince Young, Robert Griffin III, Darren McFadden, Charles Woodson, and many other surprises.
"If you have an affinity and love for helping people that are suffering, you can help by coming to this run or being a sponsor," says Coleman. "Come out and learn about how you can stay healthy and live longer."
"Advantage LED Signs is pleased to provide support and signage for any worthwhile charity in the greater Houston area," remarked Andrew Conant, Marketing Manager for the company. "We would welcome any opportunity to serve the community."
The event will be held at Eldridge Park, 2511 Eldridge Rd, in Sugar Land on Saturday, June 28th, beginning at 8 AM. For more information contact Andrew Conant at 713-970-1750.
About Advantage LED Signs:
Established in 2009, Advantage LED Signs is a US manufacturer of LED signs and LED Billboards, selling direct to businesses and organizations nationwide. Advantage LED Signs operates as a total turn-key solution provider, stating that no job is too big or too small.