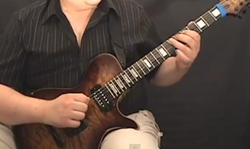 (PRWEB) June 25, 2014
In this rhythm guitar lesson, now available on YouTube.com, Silvio Gazquez teaches how to play the riff from shredder guitarist Nuno Bettencourt's band Extreme "Get the Funk Out". Silvio starts off this lesson by performing the riff at tempo with a backing track. Next Gazquez slows the riff down so you can see exactly how it's played. Guitar TAB's are available for this lead guitar lesson at GuitarControl.com.
A "riff" is the catchy part of a song that sticks in your head. One of the most recognizable guitar riffs of all time is "Smoke on the water" by Deep Purple.
Extreme is an American rock band formed in Malden Massachusetts in 1985. The band reached the height of their commercial success in the late 1980's and early 1990's and classify themselves as funky metal. Over the course of their career they have released 5 studio albums and have sold over 10 million albums world wide.
Silvio Gazquez
Silvio Gazquez is a native of Argentina and began studying guitar at the age of 14. At age 18 Silvio moved to La Plata to study classical guitar at Bellas Artes University. After three years Silvio left to pursue the electric guitar on his own. In 2004 Gazquez was chosen as a finalist for the Guitar Idol contest, but was not able to make the trip, but was chosen to participate on the Guitar Idol compilation CD. Since 2008 he has been working as a full-time guitar consultant for an U.S based Guitarcontrol.com. He has won several YouTube contests. In 2008 and 2009, Silvio also was a two times Guitar idol finalist, attending to the final in London, UK, in 2009. In January, Silvio attended to NAMM 2012 as endorser of SPEAR guitars. He's also working on his first solo album.
About GuitarControl.com
GuitarControl.com is the leader in modern guitar instruction. It's packed with recourses including articles, video lessons, and the best videos in the business for the beginner to the advanced guitar student taught by the best instructors out there. Weather you are into the blues, rock, jazz, metal, folk, or anything in between, they have you covered.