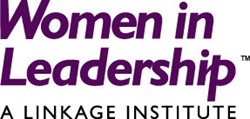 Burlington. MA (PRWEB) June 26, 2014
Linkage, a company specializing in leadership development, is now accepting nominations for its Outstanding Executive Award. Presidents or CEOs who have demonstrated a deep commitment to advancing women leaders in their organizations are eligible for this honor. The award will be presented at Linkage's 16th annual Women in Leadership Institute™ in front of over 700 women leaders from Fortune 500 companies from around the world.
The Outstanding Executive Award will be given to a President or CEO that: supports the advancement of women leaders in their organization, leads inclusively, ensures all leaders feel welcome and valued, and goes above and beyond their job description to contribute and make a difference for the women leaders in their organization.
Individuals interested in nominating themselves or their organization's President or CEO must submit a completed nomination form to Abri Holden, Director of Linkage's Women in Leadership Institute. Submissions can be made by email to aholden(at)linkageinc(dot)com or by fax to +1.781.992.1325. Deadline for submission is August 1st, 2014. Award recipients will be notified by August 15, 2014.
The 2014 award will be presented at Linkage's 16th annual Women in Leadership Institute on November 4, 2014 in Anaheim, CA. Past recipients include George Borst, former President and CEO of Toyota Financial Services, and Alexandra Lebenthal, President and CEO of Lebenthal & Company.
Designed to accelerate the succession and development of high-potential women leaders around the world, Linkage's Women in Leadership Institute is a high-impact 3-day immersive learning experience. Featuring competency-based learning, peer connection, and focused on-going support, the event boasts more than 6,500 alumni and hundreds of world-renowned speakers. Learn more at http://www.linkageinc.com/wil.
Linkage works with leaders and leadership teams worldwide to build organizations that produce superior results. For over 25 years, we have delivered on this promise by strategically aligning leadership, talent, and culture within organizations globally. We do this by providing strategic consulting on leadership development and talent management topics and through our learning institutes, skill-building workshops, tailored assessment services, and executive coaching.
###