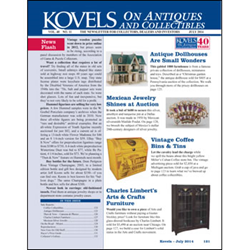 Cleveland, OH (PRWEB) June 26, 2014
Pictures, descriptions and prices of pricey miniature residences made from the 1880s to the 1920s are featured in "Kovels on Antiques and Collectibles" July 2014 newsletter. A buyer paid $805 for a gabled Victorian doll's farmhouse at the Pennsylvania auction where close to 50 antique dollhouses from a famous private collection were sold. A large New York City collection of Mexican silver was sold at a Dallas auction and featured jewelry by famous 20th-century Mexican silversmiths. Necklaces, bracelets and pins by Margot de Taxco, Fred Davis, William Spratling and others are pictured with selling prices and makers' marks in Kovels' July newsletter. And fans of Arts and Crafts furniture who can't afford a costly piece by Gustav Stickley will enjoy learning about Charles Limbert. He made furniture in the same style as Stickley and it sells for less money. Kovels' offers pictures, descriptions and prices of Limbert tables, chairs and bookcases that auctioned for prices ranging from $143 to $8,500.
Kovels' latest newsletter spills the beans about coffee collectibles. More than a hundred coffee tins, bins, signs and grinders sold at a recent Michigan auction and colorful examples are pictured in July's issue. "Kovels on Antiques and Collectibles" also continues to celebrate its 40th year of publication with a sale report featuring early cameras sold in Germany and old photos sold in New York City.
New Uses for Old Stuff pictures a sofa made from the tail end of a 1966 Corvette. The popular illustrated Collector's Gallery has prices and answers to readers' questions about a Royal Nymphenburg fish set, a jewelry clip, a Kenton Flatiron Building bank and an Art Nouveau lamp. July's Buyer's Price Guide has current prices of 50 antiques and collectibles and also shows what's up and what's down by comparing prices with those from the July 1975 newsletter.
"Kovels on Antiques and Collectibles" is available as a print subscription or as a digital version that is part of the Kovels.com Premium subscription.
Terry Kovel is America's foremost authority on antiques and collectibles. She is the well-known columnist and author of more than 100 books on antiques and collecting. With her daughter, Kim Kovel, she co-authors the best-selling annual "Kovels' Antiques and Collectibles Price Guide." They will discuss antiques and collectibles topics with accredited media. Photographs are available. Contact pr(at)kovels.com.
About Kovels.com
Kovels.com, created by Terry Kovel and Kim Kovel, provides collectors and researchers with up-to-date and accurate information on antiques and collectibles. Kovels' Antiques was founded in 1953 by Terry Kovel and her late husband, Ralph. Since then, Kovels' Antiques has published some of America's most popular books and articles about antiques, including the best-selling "Kovels' Antiques and Collectibles Price Guide," now in its 46th edition. The Kovels' website, online since 1998, offers 900,000 free prices, and includes a free weekly email, "Kovels Komments." Kovels.com gives readers a bird's-eye view of the market through the latest news, auction reports, a Marks Dictionary, readers' questions with Kovels' answers and much more.
Contact Information:
Liz Lillis
216.752.2252
Pr(at)kovels(dot)com