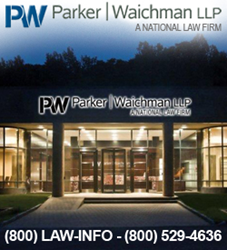 "We are thrilled that justice prevailed in this case, stopping Medtronic's attempt to quash a lawsuit brought by an individual who suffered a serious, life-altering injury during a medical procedure," said Gary Falkowitz of Parker Waichman LLP
Port Washington, New York (PRWEB) June 25, 2014
Parker Waichman LLP, a national law firm that has long been dedicated to protecting the rights of victims who have been injured during medical procedures and by medical devices, comments on a lawsuit brought by a man who became a paraplegic following surgery in which pain medication was infused into his spine. Medtronic Inc. is accused of neglecting to advise federal regulators concerning prior issues with its SynchroMed EL pump and catheter. The case is Medtronic v. Stengel, Docket Number 12-1351, in the United States Court of Appeals, Ninth Circuit.
According to a Bloomberg News report dated June 23, 2014, Medtronic argued that patients may not use state law to bring lawsuits against device makers for alleged violations of a duty under federal law. The Appeals Court rejected the argument, enabling the lawsuit brought by Richard Stengel and his spouse under Arizona state law; Mr. Stengel has since died.
Parker Waichman LLP comments that it is aware that patients may be harmed during medical procedures and as a result of the use of medical devices and is available to assist those individuals who have suffered injuries related to these procedures and medical products.
Prior High Court decisions have interpreted the federal law involving medical device approval as limiting the types of lawsuits individuals may bring; however, a 2008 ruling found that device makers may not be subject to "additional requirements under state product liability law," according to Bloomberg News. This means that individuals may sue under state rules that are deemed "parallel" to the federal requirements. In fact, according to the 9th U.S. Circuit Court of Appeals in San Francisco, California, the Stengels' claims met the requirements and may proceed. (Medtronic v. Stengel, Docket Number 12-1351, in the United States Court of Appeals, Ninth Circuit)
"We are thrilled that justice prevailed in this case, stopping Medtronic's attempt to quash a lawsuit brought by an individual who suffered a serious, life-altering injury during a medical procedure," said Gary Falkowitz, Managing Attorney at Parker Waichman.
Parker Waichman LLP offers free legal consultations to victims of injuries allegedly caused by medical procedures. If you or a loved one experienced injuries as a result of a potentially inappropriately conducted medical procedure or due to a medical device please visit the Medical Malpractice or Medical Devices pages at YourLawyer.com or call 1-8001-800-LAW-INFO (1-800-529-4636).