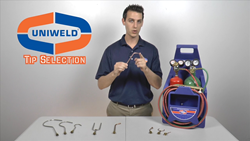 Quality Tools That Go To Work With You
Fort Lauderdale, Florida (PRWEB) June 27, 2014
Uniweld Products, Inc. is proud to release a new HVAC training video from their series of informative technical shorts. The focus this time is the tip selection process for an oxyacetylene torch. Uniweld's tip selection video was designed to educate new technicians as well as technicians who do not give much thought to the importance of tip selection. There are several factors that go into selecting the right tip for each job and neglecting these can result in equipment malfunction.
Above anything else, Uniweld strives to educate end users on flame safety. Procedure for connecting a tip is discussed in the video as well as things to look out for in basic equipment maintenance. Follow the link to watch the video and be sure to check out Uniweld's upcoming training videos for continued education.
Visit Uniweld's YouTube channel to watch more of their videos and subscribe to stay up-to-date on new video releases.