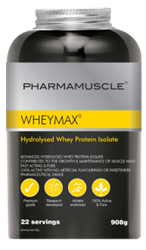 Demand for our pure whey protein product Wheymax has risen by over 65%.
(PRWEB UK) 25 June 2014
The benefits of whey protein are becoming more apparent, forcing demand of high quality whey protein to new heights. Innovative Sports Nutrition Specialist Alan Thompson at Pharmamuscle has commented, "As awareness of the health risks associated with a sedentary lifestyle rises, more people are choosing to be more active, and we have seen the demand for our pure whey protein product Wheymax rise by over 65% as more and more people become aware of the benefits of whey."
Increasing numbers of studies are publishing the risks associated with a sedentary lifestyle, which include increased risk of diabetes, heart disease and cancer. The Journal of the National Cancer Institute has recently published statistics that calculated a 6-10% increase in the risk of colon, endometrial and lung cancer for every 2 hours spent sitting down (1).
As people become increasingly aware of such studies, more adults are turning to a healthier lifestyle involving activity and exercise. This has increased the interest in sports nutrition to enable sports enthusiasts and athletes alike to gain maximum benefit from their exercise regimes. Consumers are gradually becoming aware of the nutritional value of whey protein as it contains the essential amino acids that the body needs.
Whey protein serves as a useful nutritional supplement to not only repair but actively stimulate growth of muscle. Whey contains branched-chain amino acids that are critical amino acids that activate cellular signalling pathways that cause muscle hypertrophy which helps to increase lean body composition. This is particularly effective to maximise gains from each workout session, however it is also useful to maintain muscle mass to combat sarcopenia, or age-related loss of muscle mass. Adults lose between 3-8% of their lean mass per decade, which is accelerated further by a sedentary lifestyle. Whey protein supplementation can minimise this natural loss of muscle (2).
The quality of whey protein can vary greatly depending on purity which can affect how effective it is. Whey protein supplements that are above 90% purity are classified as whey protein isolates. Pharmamuscle has produced the highest purity whey protein isolate, Wheymax. It is a hydrolysed whey protein isolate which means that in addition to superior purity, it has been treated to break down the proteins to enable rapid absorption which ensures maximum efficacy.
In an independent consumer research carried out on Wheymax, it out-performed all other tested leading products for overall taste and palatability. Pharmuscle's Wheymax was tried by 300 sports enthusiasts who gave detailed preference data which revealed Wheymax to rank consistently as the most preferred whey protein supplement. The research was carried out by Opinion-Group who specialise in sensory evaluation of food & beverage products (3).
Sources:
(1) http://jnci.oxfordjournals.org/content/106/7/dju206.extract?sid=e8f362ad-f149-47ce-ae33-1e0dcc2798c3 - Published June 2014
(2) http://www.minnesotafarmguide.com/news/dairy/benefits-of-whey-protein-have-increased-demand/article_767479de-f16d-11e3-8e3d-0019bb2963f4.html - Published 19 June 2014
(3) http://www.pharmamuscle.com/wheymax-hydrolysed-whey-protein-isolate-p-177927.aspx - Survey complete June 2014