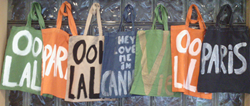 It's a singular thing to have a handmade bag.
New York (PRWEB) June 26, 2014
Hand-painted tote bags with an eye on environmental consciousness as well as Parisian panache are now available at http://www.smarttravelbags.com, the website designed to bring extraordinary luggage to vacation and business travelers.
The cotton totes are handmade; hand-dyed and hand-painted in France.
Reg Cooper, VP of Product Research, says, "Cotton has become one of the most chemically dependent crops to grow. Methods for growing organic cotton are completely different and include crop rotation, for example, and mechanical or hand weeding rather than chemical spraying. These are sustainable methods that have been used over centuries."
The dyes used for the tote bags, too, are vegetable- not chemical-based dyes.
"Many of our leather travel bag, duffels, and laptop bags are handcrafted," says Cooper. "That's really important to us. It's a singular thing to have a handmade bag. We're very pleased to add these to our collection. They are very special."
For additional information contact abbie(at)smarttravelbags(dot)com or visit http://www.smarttravelbags.com.