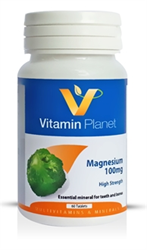 100mg Magnesium per day could reduce the risk of osteoporosis-related events by 6%.
(PRWEB UK) 25 June 2014
New studies bring to light the importance of magnesium supplements in significantly improving bone health. The European Food Safety Authority (EFSA) has issued great endorsement for the role of magnesium in maintaining normal bones, teeth, protein synthesis, electrolyte balance, neurotransmission, muscle contraction and energy yielding metabolism. Clearly, the exhaustive list of the critical role that magnesium plays in numerous physiological functions makes magnesium among the most important minerals.
A review published in the journal Nutrients has outlined the importance of "magnesium as a contributor factor to bone health." It has also been suggested that regular prophylactic supplementation of this mineral could have preventative effects against the development of bone disease developing later in life. Osteoporosis is the most common condition relating to bone health which is a multifactorial disease characterised by loss of bone mass. A report published by the Council for Responsible Nutrition (CRN) Foundation have reported that taking magnesium supplements at standard levels of 100mg per day could reduce the risk of having an osteoporosis-related event by 6%.
Regular supplementation of magnesium to compensate for the inadequate dietary levels could save health services millions of pounds every year as the incidence of osteoporosis-related events decreases. 60% of the total magnesium is deposited as an integral part of the structures that form the bone ultrastructure. Vitamin Planet's Nutritionist, Andrew Wickes has commented, "With an estimated 60-80% of adults not meeting their recommended daily intake of magnesium, our small 100mg Magnesium supplement could make a huge difference. Alongside calcium and vitamin D, magnesium is one of the most important minerals in bone support nutrition."
Less well known is the role that magnesium plays in energy-yielding metabolism. Magnesium occurs in a complex bound to ATP which is the immediate source of energy for all cellular processes. As magnesium contributes to the store of ATP in cells, a common symptom of magnesium deficiency is tiredness and fatigue.
Experts have deemed a daily 100mg dosage of magnesium to be a safe and effective dosage. Vitamin Planet produce 100mg magnesium supplements formed of magnesium oxide which has the highest elemental magnesium content (60%) of all common forms of magnesium supplements which ensure that you gain as much of the mineral as possible from each tablet.
Sources:
http://www.vitaminplanet.co.uk/blog/magnesium-strengthens-bones-and-enhances-energy-yielding-metabolism/
http://www.ncbi.nlm.nih.gov/pmc/articles/PMC3775240/