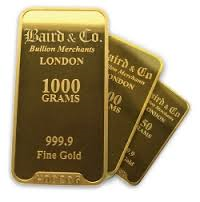 (PRWEB UK) 25 June 2014
Thursday saw the biggest rise in gold prices in one day in over nine months rising from £751.33 to a peak of £775.35 within a twenty-four hour period. The record rise in gold price over such a short period of time can be linked to the rise in geopolitical tensions in the Middle East and Eastern Europe. Head of Marketing at Postal Bullion (http://www.postalbullion.com), Marcus Allsop commented, "The huge spike in global prices has seen a rapid rise in demand for gold here in the UK too. Sales of gold bullions have more than doubled within one day".
Expert analysts at Postal Bullion (http://www.postalbullion.com) have forecasted that the price of gold is set to drastically increase in the next quarter as the demand for gold continues to soar. The latest statistics published released by Bloomberg Industries reveal that the combined consumption of gold by China and India alone exceeds 8 million ounces a month which exceeds the total amount of 7.5 million ounces that is currently being mined and put to market. The estimated deficit of 0.5 million ounces per month is suggested to be modest as alternative import routes that are unaccountable for are uncompensated in the official released figures.
Paralleling the spike in the price of gold, the rebound in silver prices was seen to be even more pronounced as prices increased by almost 4%. As with gold, India is one of the single largest consumers of silver in the world and so tracking national consumption of silver serves as a useful forecast of global prices. Owing to tight restrictions on importing gold, India has seen a greater than three-fold increase in imported silver in the last two years. As demand for this precious metal is predicted to grow at a steady rate, the value of silver is undoubtedly set to rise.
Detailed analysis comparing the price of silver to gold to give a silver:gold ratio shows that the current price of silver is on the low end compared to gold in relation to the silver:gold price ratio. Whilst silver may be priced quite low in relative terms, it is clear that silver is due to explode in value. Head of Marketing at Postal Bullion (http://www.postalbullion.com) has commented, "the sale of silver has dramatically increased over the last few months as our silver coins prove to be a popular choice for investment with smaller and increasingly with larger investors too."
Source:
http://www.postalbullion.com/blog/china-india-combined-consumption-exceeds-worlds-total-mine-supply/