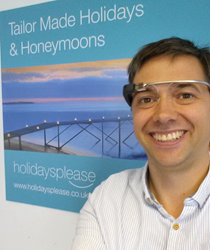 Google Glass is most likely to take off in the travel sector
(PRWEB UK) 26 June 2014
Luxury holiday company, Holidays Please is offering its customers the chance to enhance their holiday experience with the revolutionary Google Glass.
Customers will be given glasses free of charge to use overseas to take photos/video and to access relevant information such as flight times, currency exchange rates and even translation services.
Anyone who has booked a holiday with Holidaysplease will be eligible to join the scheme. The first batch of glass has arrived with the company and glasses will be awarded on a first come first served basis.
Customers will be required to give the glasses back after their holiday and will be asked to post their pictures online. Customers will also be required to comply with a responsible use policy which includes rules like not going to nudist beaches to take photos!!
Commenting on the initiative director Charles Duncombe said "We think that travel is the perfect arena for Google Glass. Not only can you take some fantastic photos and video of your trip you can also access a wealth of information. I think the translation service could be fantastic and could even make me sound like a local .... perhaps!"
If consumers would like details they can visit: http://www.holidaysplease.co.uk/news/google-glass/.
Press contacts:
Louise – 0121 200 5729 (or when calling from outside the UK 00 44 121 200 5729)
Byron – 0121 200 5706 (or when calling from outside the UK 00 44 121 200 5706)